65.00$
Necromantic Prai Oil Concentrated Serum for Seduction, Gambling, and Mercy Charm from Aged Master of the Thai Khmer Dark Arts, Ajahn Pu Boo – Pure Khmer Necromancy from the Sorcery Grimoires of the Dtamra Sayasart Khmer, with powerful Hua Chuea Nam Man Prai Phii Dtaay Tang Glom Serum extract from a Khmer Mother with Kumarn, of the Khmer Rouge Civil Wartime Era.
1 in stock
Description
Nam Man Maha Sanaeh Nam Man Prai Mae Look Orn – Khmer Necromantic Prai Oil Potion with fifty nine Hoeng Prai Ghost Powders of Bhūta Phantom corpses, made using necromantic Ingredients of Khmer Hian ghosts who diead as Hong Prai during the Khmer Rouge Wartime Era, from Thai-Khmer necromancer, Ajahn Pu Boo. The power of this Nam Man Prai comes in part from the Mercy Charm which is imbued within the oil from the serum extract of a Mother who died with her child in the womb.
The love of a mother for her own child is immensely powerful Mercy Charm, with the additional factor of powerful Psychic Powers coming from the mind of the mother and Kumarn, who are angry for their loss of life prematurely, and whose psychic energy is incredibly powerful. Their need to attain release is focused on helping the devotee of the Nam Man Prai to gain happiness and wealth through the merits and efforts of the Ghosts spirits who are trapped in Limbo due to their premature deaths, who have an agreement with Ajahn Pu Boo to fulfil the needs of Humans by attracting love and good fortune, to ease the sufferings and bring ever increasing success to the devotee.
If you wish to use this Nam Man Prai to call and subdue a lover, then you should smear a drop of the Nam Man Prai onto the pillow at bedtime. Before sleeping on the pillow, you should chant the Incantation to 'Pluk' (awaken and summon) the Bhūta spirits to assist in directing the focus of the intended 'victim' of the spell, to focus on you, and be unable to get you out of their minds. Otherwise the oil can be used to smear on oneself for Metta Maha Niyom and Maha Sanaeh mercy Charm and Power of Attraction, for Business success, gaining entourage, or even to get merciful treatment from employers, and even to attain favourable results in court cases or other unfavourable situations.
Before chanting the Incantation and blowing (casting) the spell, you should dab a bit of liquor on the bottle to invoke its powerful energy by feeding and appeasing the Hoeng Prai Ghosts within the potion first. Then chant the Kata;
Kata Pluk Nam Man Prai
Māni Mā Sātiya
Chant 3 times before using, and blow on the bottle, or if you have the oil already on your finger or smeared onto an object or person, then blow on the oil after chanting the Kata Pluk. For seduction of a chosen person, smear a drop of the Nam Man Prai onto the pillow at bedtime, and think of the person you wish to seduce. You can write their name on a piece of paper and place inside or under the pillow, or mattress.
Kata Riak (Call the Spirits to Manifest)
Jijeruni Jidt-Dtang Jaedtasigang Ruubpang Nimidt-Dtang Idti Phuudta Aehi Jidt-Dti Maa Ni Maa Maa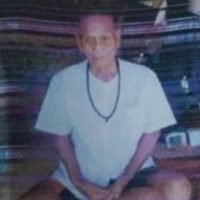 Ajahn Pu Boo is extremely revered for his ability to empower Nam Man Prai Oils, which are famous in the eastern regions for possessing the power to attract and seduce people, and to increase success in speculative risk and gambling exploits. His animist charms and talismans are very renowned for their powerful magic and  fast acting effects.​
Ajahn Phu has been practicing for many decades since an early age and has received multitudes of Wicha from his Kroo Ba Ajarn, from both the Khmer and Thai sides of the border. He does not seek fame or fortune, and practices in solitude, but his powerful potions and amulets have led him to become very highly revered and sought after by devotees of Prai Maha Sanaeh magic in the Eastern regions of Thailand, and with devotees on the Khmer side of the border too.In addition, many Devotees from China seek our Ajarn Pu Boo to beseech his blessings and amulets, ans he receives regular visits from devotees from around South East Asia. He remains as humble and simple as ever despite the recent increase of devotees from around the South East asian Continent and even further afield as Westerners also have begun to seek his dominion of Khmer necromancy, to bring fast effects and powerful results.
Additional information
| | |
| --- | --- |
| Weight | 50 g |
| Dimensions | 2.5 × 2.5 × 7 cm |
| Maker | Ajahn Pu Boo |
| Type of Amulet | Necromancy |
| Uses | Seduction, Gambling, Anti Black Magick, Mercy Charm, Job Promotion, Prosperous Business Dealings |
| Year of Issue | Made in 2559 BE, Released after one year of Empowerment in 2560 BE |