65.00$
Takrut Pork Krang Putsa sacred Magical Paste covered yantra scroll spell for safe travels, and lucky fortunes, mercy charm and Pokasap treasure accumulation, bound to a red cord belt from Luang Por Mailai (Pra Kroo Tamma Sakorn), of Wat Ban Hyaa Praek. The Takrut Tong Daeng hand inscribed scroll spell has been coated with Krang Putsa sacred paste using hot flame to melt the past around the Takrut, which is one of the many different method used in Takrut making. The Sacred Krang paste is to increase 'Krang Krai' desire (to buy, approach, like and love) in the hearts of humans and animals who approach. The Takrut protects from dangerous beasts and deadly dangers when traveling, and attracts customers, admirers and even lovers, inducing mercy charm within their hearts to buy your wares, hire your services, become helpful friends and to be generous to you. The word 'Krang' alludes to the phrase 'Krang Krai' which means intense desire for something or somebody, and is believed to induce powerful magical attraction force into the amulets.
1 in stock
Description
A Classic amulet derived from Wicha Lanna Thai Occult Sorcery Grimoires, that has been used for centuries, as a protective and auspicious bringer of blessings. Luang Por Malai (Wat Ban Ya Praek), is considered an 'Arya Sangha' & 'Pra Subadtibpanno' and a highly realised monk of the great purity of practice.
Luang Por Malai was born in Bangkok on Sunday the 8th September 2483 BE in Bang Khun Tian, and was given the nickname of 'Ai Hmaa' by his parents, whose names were Mr. Bun Tam and Mrs. Kim Dtaeng Orn. he was one of six siblings.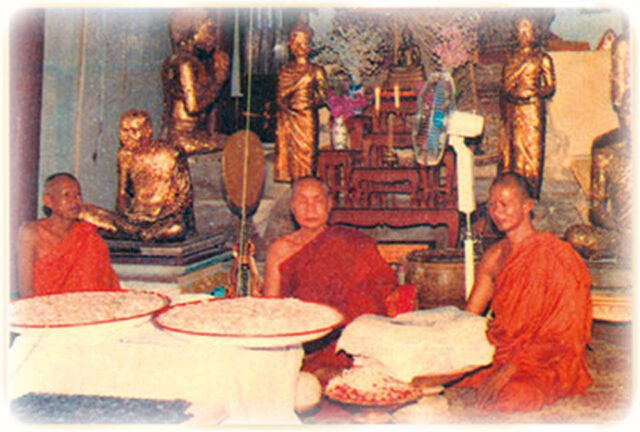 He was ordained into the Sangha on the 5th March 2509 BE at 13:00 hours at Wat Bang Gradee at the age of 25, with Pra Taep Muni of Wat racha Oros as his Upachaya Ordaining Officer, and Ajarn Sangha Garawigo of Wat Bang Gradee as his Gammawajajarn Prompting Officer, and Pra Ajarn Sanguan of Wat Gampra as his Anusawanajarn witness. IN principle, Luang Por Malai had intended to ordain for one single year and disrobe to help his family, who were very poor. But the calling of the Buddha became very strong within him, and caused him to remain, and eventually become the abbot of Wat Ban Hyaa Praek on 7th february 2517 BE, with Luang Por Gaew if Wat Suttiwadtra presenting the official document of status. IN 2527 He was awarded status of Pra Upachaya Ordaining Officer empowered to chant Pattimokkha. In 2535 BE he was awarded status of the Bishop of Ta Chalong Municipality
Luang Por Malai is a renowned Master whose amulets are famously powerful for the Sacred Blessings of this Master, whose ability to empower amulets is famed throughout the nation, and whose purity of practice led him to attain an immense level of reverence and respect from his devotees