120.00$
Bia Gae Jon Cowrie shell amulet, for healing, Wealth Accumulation and Protection, filled with Alchemical Mercury and Putsa Plum paste, with solid silver casing from Luang Por Kong (Sanya), abbot of Wat Klang Bang Gaew. The Bia Gae is empowered with the Wicha of Wat Klang Bang Gaew continued now by 4 consecutive abbots, and imbued with 'Puttakun, Gae Jon Klaew Klaad, Raksa Roke, Kong Grapan, Gan Kun Sai Magic, for Luck and Metta, Protection from harm, black magic and evasion of inauspicious circumstances.
Out of stock
Description
'Puttakun, Gae Jon Klaew Klaad, Raksa Roke, Kong Grapan, Gan Kun Sai' – Luck and Metta, Protection from harm, black magic and evasion of inauspicious circumstances, from Luang Por Kong (Sanya), of Wat Klang Bang Gaew, in Nakorn Pathom. The Bia Gae amulet's full name is really 'Bia Gae Jon' meaning 'shell for rectifying/curing poverty'.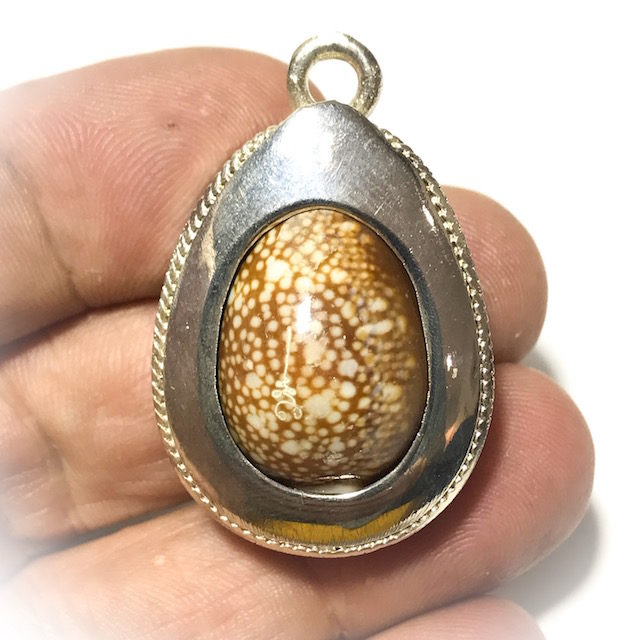 The Bia Gae shell has been constructed using Parot (Brort – a kind of mercury sacred element), and the proper kind of 'Bia' shell needed to be powerful (32 teeth), and posses the Bia Gae spell. The amulet is then inserted and encased with a filigrain engraived solid silver casing, which has been fashioned with one central hoop to attach to a neck chain, keychain or other accessory. Made for LP Juea's (deceased) 84th Anniversary.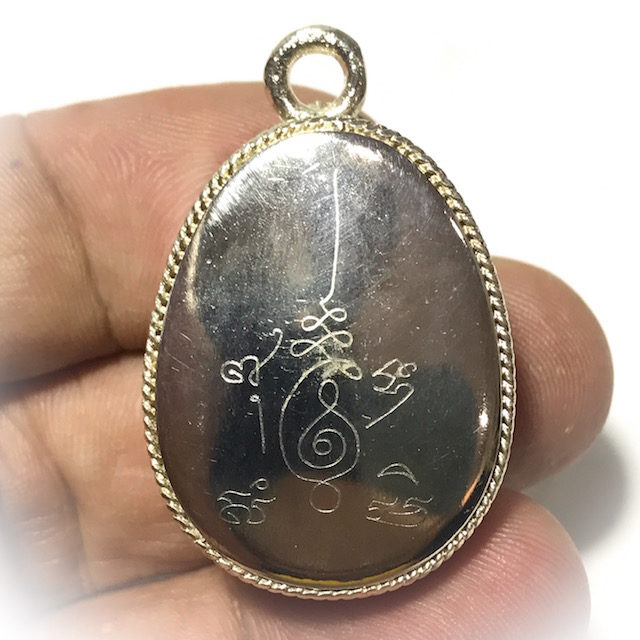 The rear face is embossed with the inscription of Yant Putsoorn (5 Dhyani Buddhas Yantra) with the Sacred Khom (Khmer) Agkhara Kata 'Na Mo Buddhaya'. Hand made Spell Inscirptions from Luang Phbu Juea are visible on the rear face.
The Bia Gae has been a popular folk amulet for hundreds of years, and is an ancient Wicha for which Luang Por Kong has continued the honour of his predecessor and mentor, Luang Pu Bun, Luang Por Perm, and Luang Pu Juea, and maintained the fame of Wat Klang Bang Kaew temple as being the number one maker of powerful Bia Gae amulets.
Luang Pu Kong's Bia Gae have now attained such fame and popularity that they no longer stand in the shadow of those made by his Mentor and Predecessor LP Juea, with the only true difference between the two generations of Masters being that those of his predecessors are older, and have enjoyed a long history of fame and legend. Of course the amulets of the Old Masters are still more highly valued in the collector market, which in no way says anything at all about the miracle power or sacred value of the amulets, rather is a simply worldly and aesthetic evaluation which is restricted to a very small scope controlled by a strict set of rules and conditions, which seek to register amulets of competition grade only.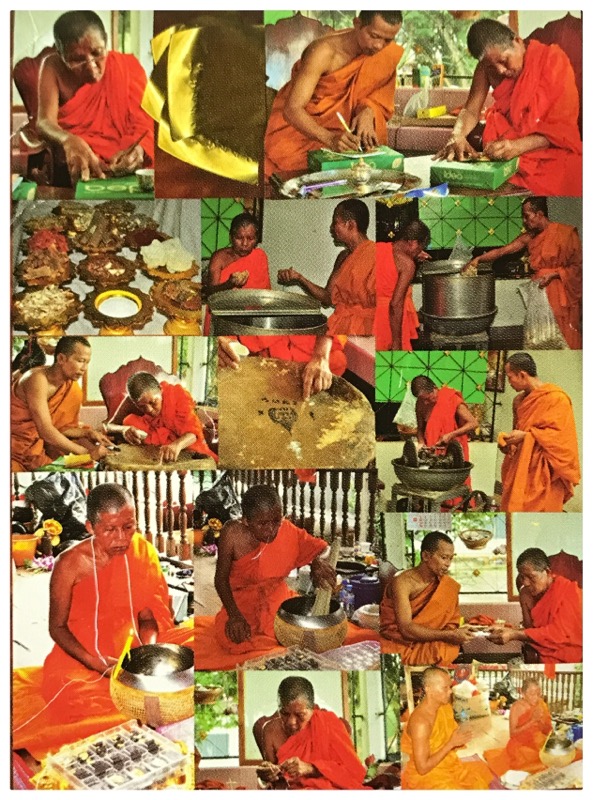 How to Bucha Bia Gae Jon Wicha Wat Klang Bang Gaew;
Each day when taking the Bia Gae, you must chant to the Triple Gem (Na Mo Dtassa Pakawadto Arahadto Sammaa Samputtassa 3 times)
Then chant the Kata Bia Gae as follows; Chant the following out Loud;
Iditbpiso Pakawaa Yaadtraayaamadee – Dai Yaam Pra Sri Sawatdee Laapo Na Mo Puttaaya
Then chant the following silently in your heart in continuation;
A Sang Wi Su Lo Bu Sa Pu Pa Putta Sang Mi Iswaa Su
This amulet is unisex, and apart from inducing an increase in moneyflow, also protects against even the fiercest black magic, and supernatural forces, dark spirits and ghosts. Also provides protection from physical harm with strong Kong Grapan magic.
Luang Porn Kong (Sanya), is Abbot of Wat Klang Bang Gaew and the fourth of a lineage of Grand Master amulet makers, preceded by Phu Juea Biyasilo, Luang Por Perm and Luang Phu Bun. His amazing Ya Wasana Jinda Manee, and his Pong Khamin Sek sacred powder admixtures, and the many classic powder amulets he makes with them, have now attained as much fame as his predecessors at Wat Klang Bang Gaew.
His powerful Bia Gae Jon amulets are becoming as popular as those of his Mentors of the Lineage Wicha of Wat Klang Bang Gaew, Luang Pu Juea, LP Perm and LP Bun, and the continuation of this 200 year olld Lineage of Master Monks is successfully perpetuated by the merits of Luang Por Kong. His powder amulets remain faithful to ancient Thai Buddhist Art and reproduce the most classic and Eternal Buddhist amulets which began with the Great Luang Pu Bun, such as the Jao Sua, Nang Paya
Additional information
| | |
| --- | --- |
| Weight | 35 g |
| Dimensions | 2 × 2.5 × 3.5 cm |
| Weight | 35 Grams including casing |
| Materials | Cowrie shell filled with krang putsa, parort alchemical mercury, encased in solid silver frame with hand inscribe Yantra Inscriptions |
| Maker | Luang Por Kong (Sanya) |
| Temple | Wat Klang Bang Gaew Temple (Nakorn Pathom) |
| Year of Issue | 2556 BE |