Description
Released along with the Pra Kring Chinabanchorn Buddha Amulets made to celebrate Luang Por Sakorn's 75th Year (2556). We appeared in February to get some, and saw that these were all that were left at the temple. Now. stocks are completely depleted at Wat Nong Grub the same Month of its Release, as are most of the preferred editions of Pra Khun Phaen Amulets. A Metal  foil with limited edition series code stamp is inserted within the Look Om
The Look Om are in our opinion, indeed as stated, made from the finest Plai Oils and Powders, second to none in this day and age. As far as Look Om are concerned, these are the finest available in this or even a much higher price range, from any Master. The look Om amulet comes with original box from the temple of Wat Nong Grub.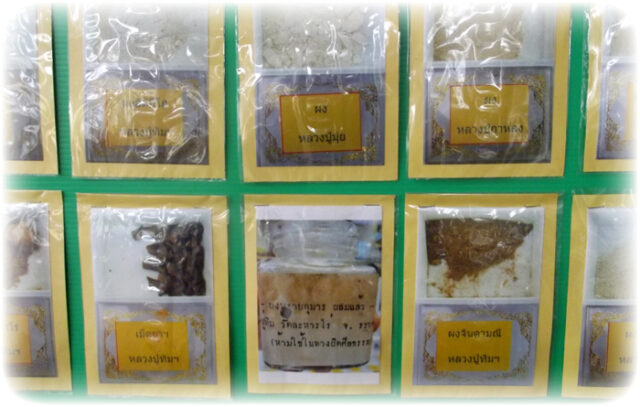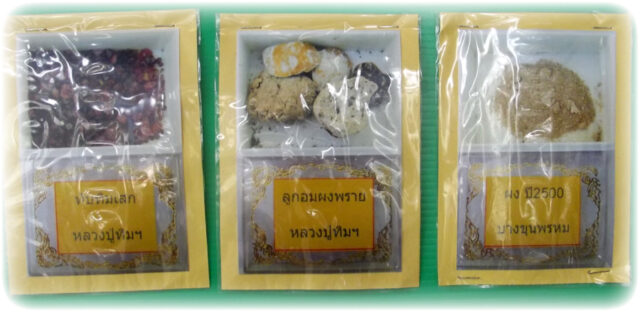 Above; powdered Pra Somdej Wat Bang Khun Prohm 2500 Be, Look Om balls from LP Tim (Wat Laharn Rai) and blessed gems of Luang Pu Tim, used in the making of Pra Kring and Look Om amulets, and many more sacred powders were used.
There were Miracle Tidings in the News One Year after His Passing – Luang Por Sakorn's Corpse did not decay.