55.00$
Rian Prohm Sethee Brahma God Coin  with Sacred Na Yantra on rear face from Luang Por Duang Maha Sethee, in Nuea Maha Chanuan Khad Ngao Sacred Artifact Metals with sheened finish, blessed in 2 separate blessing ceremonies at Wat Nong Phai in Utai Thani, with six great Master Monks of the Wicha to Invoke the Brahma God's Blessings.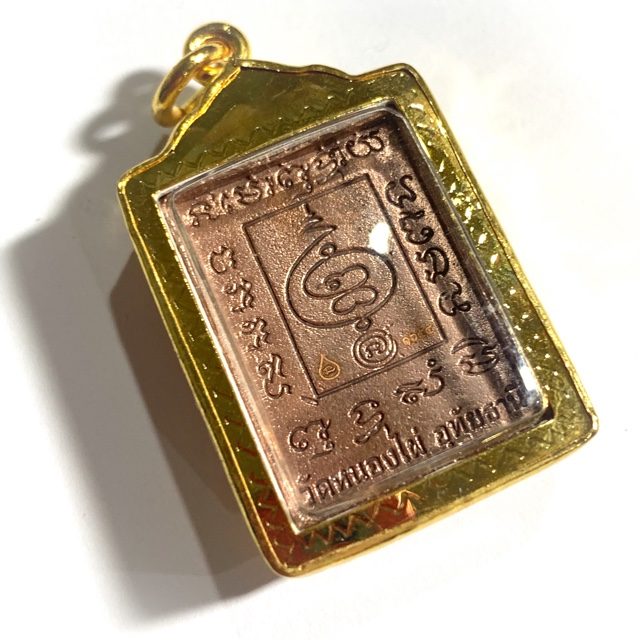 Luang Por Duang Maha Sethee, of Wat Nong Phi, presided over the Buddha and Deva Abhiseka Ceremonies, on Saturday 22nd September 2561 BE, and Sunday 18th of November 2561 BE (2018) He was accompanied by the necessary five monks needed for the proper execution of the Buddha Abhiseka Empowerment of amulets through ritual 'Nang Prok' (five Monks with psychic powers perform meditative empowerment on the amulets using sinjana cords to transmit the energies).
These Monks accompanying LP Duang Maha Sethee were; 1. LP Pat  Bunyagamo, of Wat Huay Luan, in Nakorn Sawan, 2. Luang Por Sa-Ard Awutasilo, of Wat Khao Gaew, in Nakorn Sawan (all LP Derm Lineage Masters). 3. Luang Por Bplueang Bpasano, of Wat Gampaeng, in Chainat (LP Sukh Lineage), 4. Luang Por Noppawan Kunasaro, of Wat Sena Nimit, in Ayuttaya (Famed for Pra Pid Ta amulets), and 5. Luang Por Noi Jantawaso, Samnak Songk Pha Buang Leuk, in Sri Saket (LP Moon and LP Suang Lineage).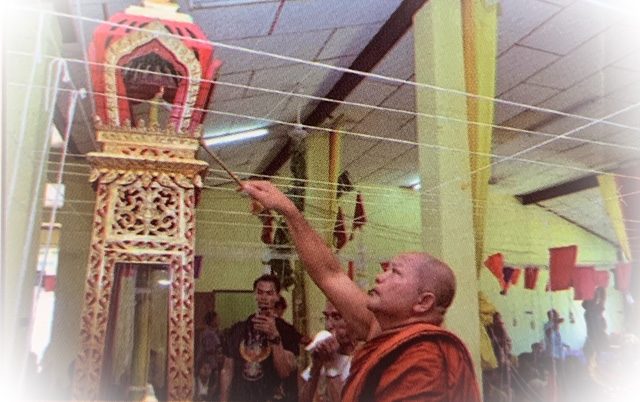 1 in stock
Description
LP Duang Maha Sethee, abbot of Wat Nong Phai lit the victory candle, and invoked the spirit of Luang Phu Doo, of Wat Sakae, whose Whicha is the inspiration for these Brahma amulets, and with Luang Por Noppawan of the LP Doo Ayuttaya Lineage to make the spiritual connection to Luang Phu Doo.
The Brahma God has four faces representing the four Brahma Vihara, and is said to attract good luck and admirers, customers and lovers from all four directions, and to protect and heal by guarding the cardinal points. In the beginning, Brahma sprang from the cosmic golden egg and he then created good & evil and light & dark from his own person.

He also created the four types: gods, demons, ancestors, and men (the first being Manu). Brahma then made all living creatures upon the earth (although in some myths Brahma's son Daksa is responsible for this). In the process of creating, perhaps in a moment of distraction, the demons were born from Brahma's thigh and so he abandoned his own body which then became Night.

After Brahma created good gods he abandoned his body once again, which then became Day, hence demons gain the ascendancy at night and gods, the forces of goodness, rule the day. Brahma then created ancestors and men, each time again abandoning his body so that they became Dusk and Dawn respectively. This process of creation repeats itself in every aeon. Brahma then appointed Shiva to rule over humanity although in later myths Brahma becomes a servant of Shiva. (source; Mark Cartwright; Ancient History Encyclopedia).