Presenting a very rare and faith inspiring amulet that is of immense interest, for the sacred shrine of the deity depicted on the amulet, the Goddess Jao Mae Khao Sam Mukh, at the shrine in Chonburi
The temple shrine of Jao Mae Khao Sam Muk is a sacred temple in Chonburi, devoted to a Chinese Goddess, who can be prayed to for blessings. One blessing which is popular is the prayer for eternal unbreakable love, for there is a legend associated with the mountain Shrine of Khao Sam Muk. which is a popular folk tale of a couple whose love for each other drove them both to their deaths.
There was a man named Saen and a girl named Muk, who were in love, and gave each other rings to wear forever till death, as a symbol of their love. But the girl Muk was forced into a situation where she could not decide, and had to remove the ring she had promised never to remove until death.
So she threw herself off the cliffs to appease her wrongdoing, but when her lover Saen saw what she had done, he threw himself off the cliff to fall down beside her, their broken bodies lying together in death, as they had been in life. The place where the girl and boy fell, was called 'Saw Muk' but slowly changed to 'Sam Muk' as time passed, and people mispronounced the term.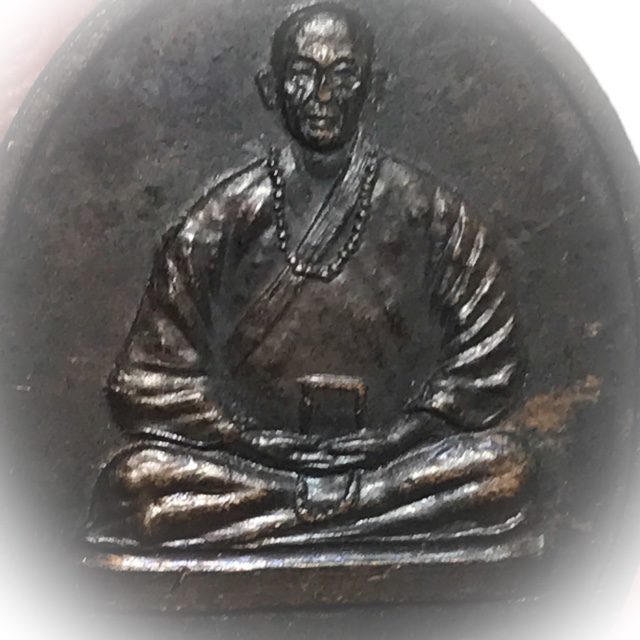 The coin features the image of the Master of the temple on one side, and the other side features the image of the Deity Goddess within the shrine at Khao Muk which is of course a form of Kwan Yin (Guanyin) Bodhisattva of Mercy, where Thai Buddhists and Thai-Chinese folk come to worship, and beseech blessings.
A very rare coin with a fascinating background, from a sacred hill temple, that is highly recommendable for praying to auspicious fortunes