75.00$
A classic, and immensely beautiful votive tablet, in Nuea Bailan Black Parchment Soot and Puttakun Powders; the Pra Somdej Rasamee Hlang Yant Trinisinghae Fang Khaw Sarn Dam, of Luang Por Lumyai Wat Tung Lard Ya, in Kanjanaburi. Made from Black Parchment Soot, Yantra Powders, with a grain of blessed black rice embedded within the amulet.
1 in stock
Description
The Pra Somdej Rasamee was Released in Buddha Abhiseka Blessing in the year 2530 BE, The front face features a Buddha Image seated on a Lotus Dais, placed on a 'Thaan Kha Dto' Table Leg styled Under-Dais. The Buddha is illuminated by an Aura of Light Rays around his head.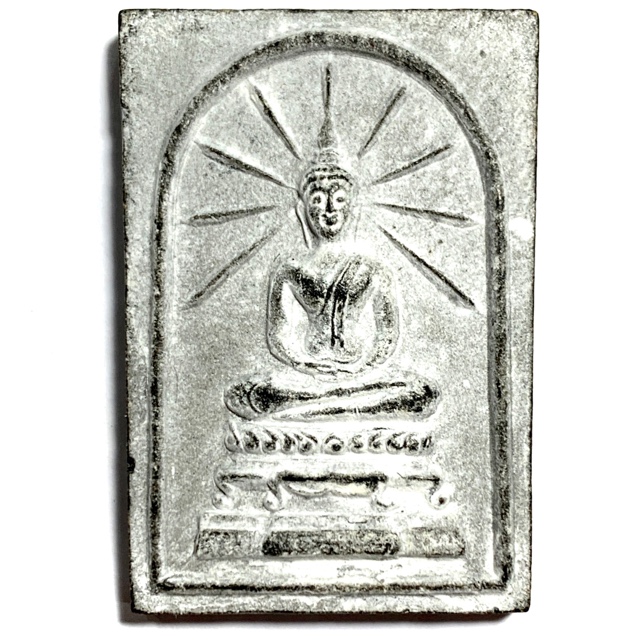 The rear face has the Sacred Yant Trinisinghae inscribed, above which are the words 'Luang Por Lumyai' and below which are the words 'Wat Tung Lard Ya'. The amulet comes encased with silver casing with colored enamelled decorative embellishments included, and free shipping.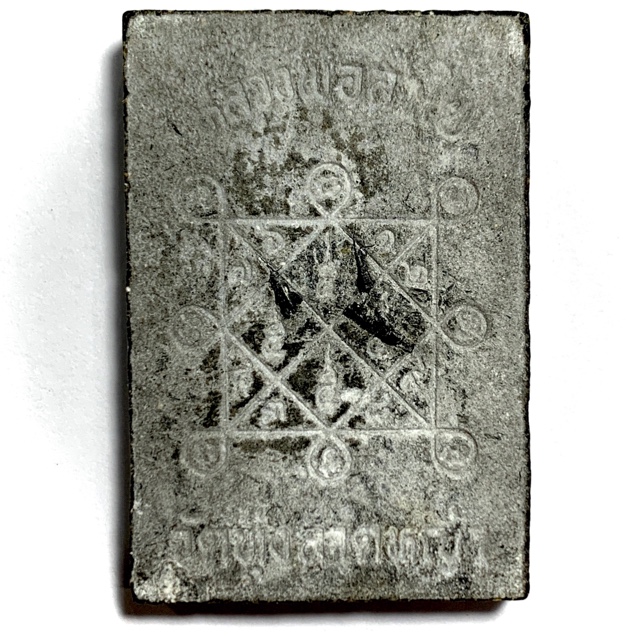 LP Lumyai is highly famed for his many editions of the leaden alchemical Ruesi statuette amulet 'Pra Tha Gradan', which emulates the original Pra Kru Ta Gradan amulets found in burial chamber made by Ruesi Sages Centuries ago.
Luang Por Lumyai, is considered one of the Great Kanjanaburi Province Master Monks and amulet makers, with Powerful Wicha, of the mid and late 20th Century. A Monk whose amulets are classic Buddhist amulets, of a conservationist style and nature, which are full of Sacred and Historical Value, and made from the most Sacred Muan Sarn Powders and Metallic Chanuan Alchemical Metals.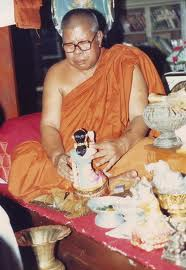 Luag Por Lumyai has been Known and Revered immensely by Devotees all over South East Asia, and even in the West, for many decades already.
The amulets of Luang Por Lumyai are far and few to come by, and most Sacred and Collectible Buddhist Amulets, of the Most Auspicious Kind Imaginable.
LP Lumyai was a Looksit in Magical Wicha to Luang Por Sorn, Luang Phu Yim (Wat Nong Bua), Luang Phu Rian (Wat Nong Bua), and theGreat Luang Por Plien of Wat Dtai Kanjanaburi (so famed for his Wicha Hwaen Pra Pirod)
.
Additional information
| | |
| --- | --- |
| Weight | 20 g |
| Maker of Amulet | |
| Temple | |
| Year of Release | |