69.00$
Somdej Phra That Phanom Pim Rong Leuk 2518 BE edition Votive Table in rare Pink Powders version Blessed by the Great Ajarn Fan Ajaro of Wat Pha Udom Somporn, and many Great Isan Master Monks of that Era, who were also invited by the Abbot of Wat Phra That Phanom, to come and empower and bless the amulets, in front of the Chedi Stupa which contains the Buddha Relic at Wat Phra That Phanom. Casing is included with this amulet.
The rear face of the amulet features the Chedi Relic Stupa of Wat Phra That Phanom, with an aura of lightrays embossed into the rear face. Classed within the pantheon of amulets of Ajarn Fan Ajaro , the amulet contains immensely sacred powders within the Muan Sarn Clay, full of Puttakun Power, and Blessed by the top Masters of the North eastern Region of the Era.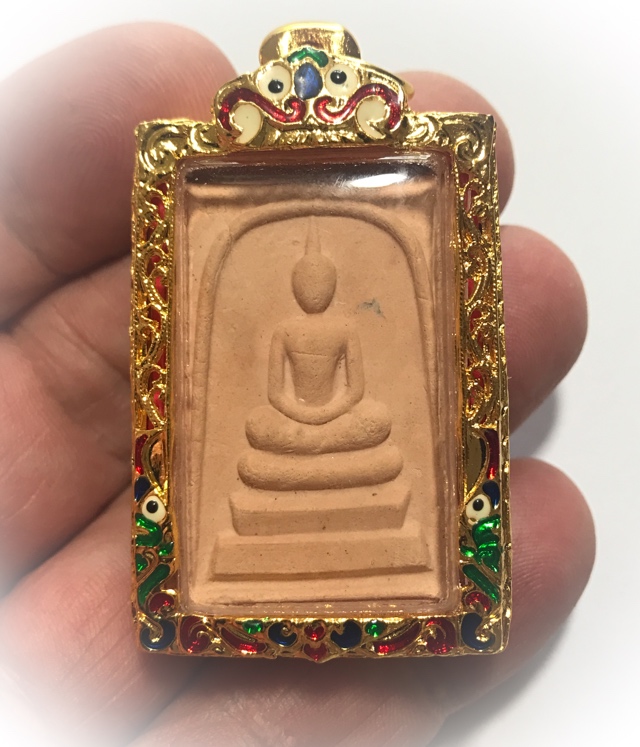 1 in stock
Description
Wat Phra That Phanom is the sacred precinct of the Phra That Phanom chedi, located in the district of the same name, in the southern part of Nakhon Phanom Province, northeastern Thailand. According to legend, this structure contains The Buddha's breast bone, and as such, it is one of the most important Theravada Buddhist structures in the region. It was originally built in the 16th century by the Laotian King Setthathirath of Lan Xang. Each year, a festival is held in That Phanom to honor the temple. This festival lasts for one week, during which thousands of people make pilgrimages to honor the shrine.
According to a Fine Arts Department marker on the site, it fell down in 1975, but was rebuilt with funds raised by public subscription, and from the government.
In Thai folk Buddhism, Wat Phra That Phanom is a popular pilgrimage destination for those born in the year of the Monkey. (Wikipedia; Wat Phra That Phanom)