Description
The Pra Kring Medicine Buddha amulets were made in three different sacred metals; Nuea Ngern (solid silver, only 9 made), Nuea Maha Chanuan Rom Man Pu (alchemical artifact metals with reddish oiled surface), and Nuea Maha Chanuan Rom Dam (alchemical artifact metals with blackened oiled surface) Blessed by L.P. Sin and L.P. Foo.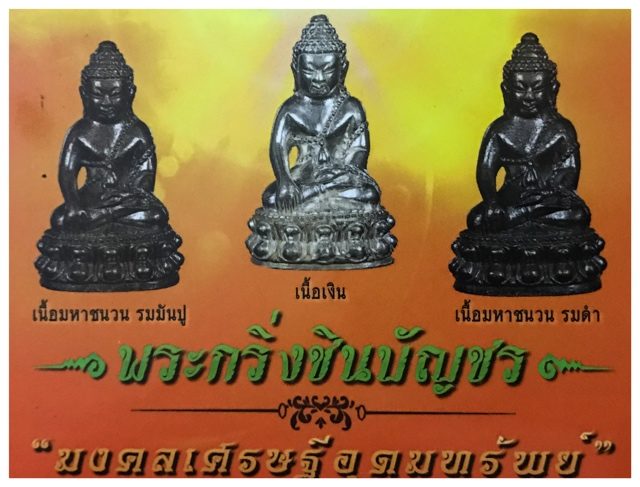 The use of the Pra Kring amulet as an object of veneration for this particular commemoration is with the intent of bestowing miraculous protection and healing powers of the Medicine Buddha to the devotee, with Serm Duang power for auspicious Karma, and as Buddhanussati (Mindfulness of the Buddha).
The beliefs about the Powers of the Pra Kring Wat Bovornives, are that the Pra Kring is the image of Pra Pai Sachaya Kuru (พระไภษัชยคุรุ Bhaisajyaguru, 藥師佛 Yàoshīfó, in Chinese, or in Japanese 'Yakushi'). Pra Pai Sachaya Kuru (or, 'Guru) is of course, the Medicine Buddha.
[youtube https://www.youtube.com/watch?v=hdkLOqKfz2g]
The first Blessing Ceremony was held on Friday 9th march 2561 BE at Wat Bang Samak with Luang Por Foo performing Blessings
The second Blessing Ceremony was held on Saturday 10th March 2561 BE at Wat Laharn Yai, with Luang Por Sin Performing Blessings.
The third Blessing Ceremony was held at Wat Ka Long in full Buddha Abhiseka with the monks of Wat Ka Long of the lineage of Luang Por Sud (Wat Ka Long)