Description
Kata Bucha Pra Nakprok;
Yadtohang Pakiniariyaaya Chaadtiyaa Chaadto Naapichaanami Sanjijja Bpaanang Chiiwidtaa Wo Ro Bpedtaa Dtena sajjena So Dti Dte Ho Dtu Kappassa
The Pra Nakprok is an image of the Buddha sitting in Samamadhi (concentrative meditation), on top of a Naga, the Naga's head is raised over Buddha's to form a canopy. It is known as "Bpaang Nakprok"
The Buddha remained in blissful rapture under the Acabhalanikaroda for seven days, whereupon he moved to the Mucalinda tree to the Southeast side of the Bodhi tree. A terrible rainstorm began, pouring down on the forest for a whole seven days without stopping. Payanaga Mucalinda, who was King of the Nagas, came up from the naga Realm in the underworld and coiled himself underneath the Buddha, making a cushion seven stories high, to keep him dry.]
He rose up and leaned his head over the Lord opening his neck canopy to shade the Buddha from the rain, as well as keeping watch to protect him from all sorts of parasitic, poisonous and preying animals and creatures. As the rains ceased to fall, the Naga King uncoiled and changed into a Human form and raised his hands in reverence to Buddha.
In this moment, the Buddha uttered the following Kata (words);
"Sukhoewiwego Dtudtassa Sudtadhammassa Bpassadtoe Abhayaabpach-chang Sukhang Loke Bpaanapuudtesuu Sanyamosukhaa Wiraakadtaa Loke Gaamaanang Smadtiggamo Asmimaanassa Winayo Edtang We Bparamang Sukhang"
"Tranquility is the pleasure of he who has listened to and understood the Dharma intently, who sees conditioned things for what they really are, and does not seek to harm others. Of he who has abolished his passions and cravings, lust and desires, he who has stepped beyond all craving for sensual pleasures and endured in his efforts to do away with self conceited attitudes, has the greatest pleasure".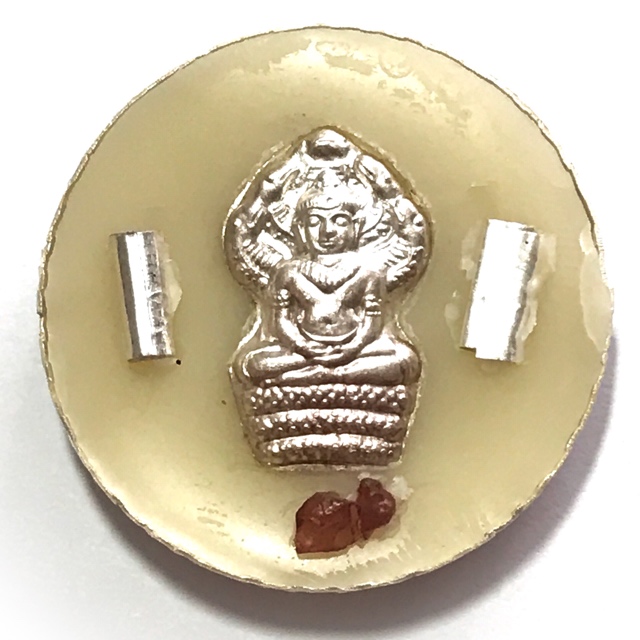 The statue of Buddha sitting on seven coils of the Naga King snake was created to remember this occasion of the Naga paying reverence to Lord Buddha, and the representation of him sitting on top of the coils as if seated upon a royal throne is used for two reasons; 1. Aesthetics, 2. Brahmin influence
A more authentic and historical version of this Buddha image is sometimes seen in the form of the Nagas coils wrapped around and covering the Buddha's body with four or five coils around him. The only part of the body visible being Lord Buddha's shoulders, neck and head, which is also semi enclosed by the head and canopy of the Naga leaning over him.
This special extreme limited edition solid silver Dtalab Kroo See Pheung Nuea Samrit Hlang Yant Mongkut Pra Putta Jao (version, also known as Yant Maha Mongkol or Yant Long See Pheung) of Luang Por Koon Worabanyo was Blessed in 4 separate empowerment ceremonies, along with other amulets in this series, by Pra Kroo Prachote Bunyakorn (Luang Por Koon Worabanyo), Abbot of Wat Ballangk and Bishop of the Municipality. The Yant on rear face contains the Itipiso Mantra and the Kata Yant Gratuu Jet Baeg. Released after final blessing on full moon day 5th February 2561 BE.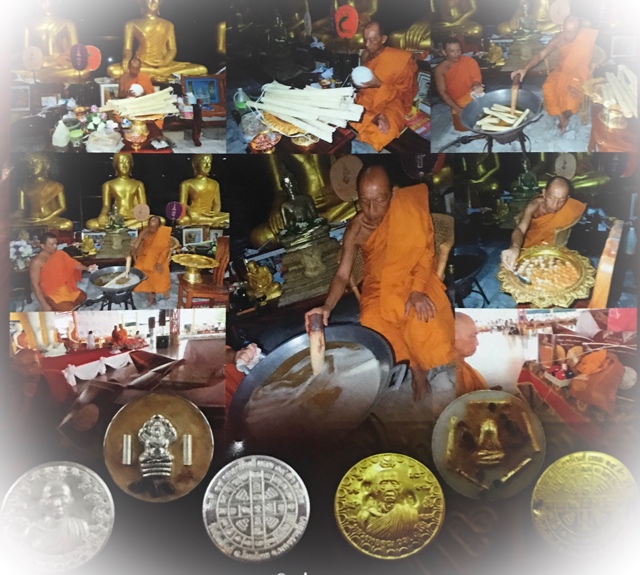 This edition was released in various sacred metals including Samrit Bronze and Nuea Ngern solid Silver, and solid Gold. Only extremely few numbers were made in silver and gold.