28.00$
Tamniab Wadthumongkol Luang Por Hliw Wat Rai Dtaeng Tong 2nd Edition – Amulet Pantheon 118 Pages Encyclopaedic Work to catalogue and explain the aspects and features of authentic amulets, how to recognise and differentiate the various editions and limited series release amulets of the Great master Luang Por Hliw.
Description
Luang Por Liw was born in 2448 BE, Ordained at the age of 27 years old, and remained Ordained until he passed away in 2543 BE, on the 4th of September at 20:35 P.M. Leaving behind him this classic Heritage of Famous 'Rian Tao Ruean' Coin Amulets, that are amongst to most well known coin amulets in both Thailand, and on Foreign Shores. HIs pantheon of amulets is vast and complex, and different editions can carry grand differences in popularity, price and preference. This book should help you to see through the vast compendium of amulets of Luang Por Liw, and help to increase your knowledge and differentiate the various editions. The book contains all of the Rian Tao Ruean coin series, along with Luang Por Liw's other famous coins, Lockets, Pra Kring, Sacred Powder Amulets such as his Roop Muean, and Pra Somdej. His Talismanic Charms are also included, such as Takrut, Chueak Kart Aew waistcords, Bia Gae, Ganha Chali, Rings, Pha Yant, and Loi Ongk Statuettes in the form of Suea (tigers). Originally released in 2559 BE, with this second edition Printing following in 2560 BE, which also sold out, to become another collector's classic.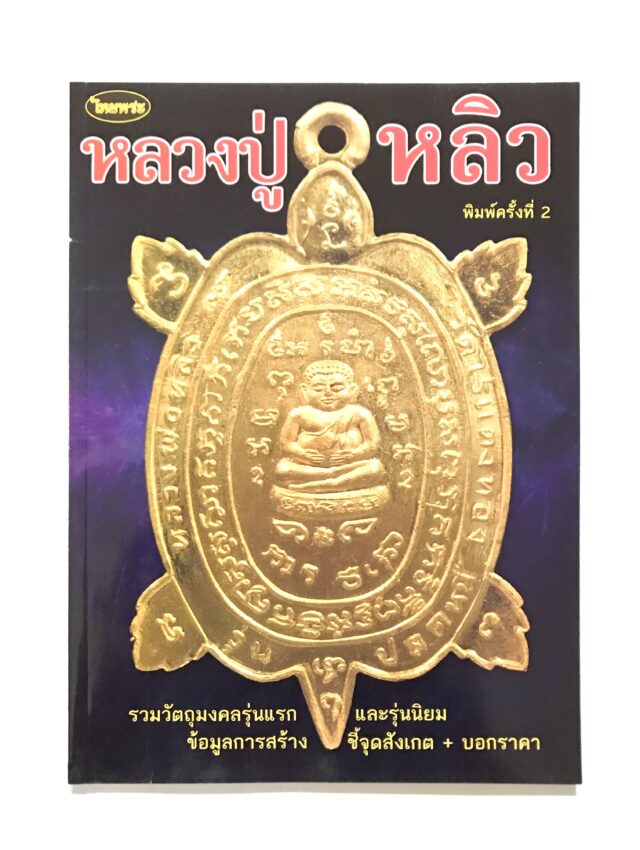 Anybody who knows these amulets, knows that one study up properly and should grab them while you can, and that one can never regret owning a famous Tao Ruean Coin oir other Amulet of Luang Por Liw. One day, they will become impossible to find anymore, and that day, is definitely coming. The Rian Tao Ruean Turtle Yantra with Sangkajjai Buddha Coin Amulet from Luang Port Liw, is famous for its Maha Lap Kaa Khaay Power to increase Business success and Proficient Salesmanship and its Power to bring Lucky Fortunes upon the wearer. For this reason this amulet has become an all time classic that is Internationally Popular with Devotees around the World. The Patipata (Purity of Practice) of Luang Por Liw is also a major strongpoint behind the reason for his Tao Ruean Turtle, and other amulets becoming such an all time world famous classic amulet of immense esteem and collectibility.
Additional information
| | |
| --- | --- |
| Weight | 500 g |
| Dimensions | 1.5 × 22 × 30 cm |