14.99$
The now Cult Status Buddha Magic Series continues with Episode 6, which begins the Second Collection of 5 Books, this first of the next 5 books being this, The Book of Thai Lanna Sorcery. The Book of Thai Lanna Sorcery is the Sixth E-Book in the Buddha Magic Series, and Ajarn Spencer's 7th Publication.
You can enjoy a few screenshots of this issue by viewing the image gallery
Description
Buddha Magic Book 6 – The Book of Thai Lanna Sorcery
This 6th Buddha Magic Publication has 182 Pages, packed with essential information for the Student and Devotee of Thai Occult & Amulets, and for those who are interested in the Northern Lanna Magical Tradition.
This time, Ajarn Spencer Littlewood introduces us to the Occult traditions, and talismanic amulets of the folk of the Northern Lanna Regions, which have a rich cultural heritage deriving from a multitude of Ethnic Races and Cultures, with Animism being a strong influence on the magical symbolism found in Lanna Sorcery traditions. The book is of interest to amulet collectors, anthropologists, and occultists, and to anyone who wishes to deepen their understanding of the beliefs of the people of Siam.
NOTE – this is an E-BOOK, NOT Physical goods. The Ebook is a Virtual download in PDF Format for on screen reading. You can however print one copy for your own use and reference. A4 Format prints very clearly.
This Ebook is the first of the second set of 5 Buddha Magic Ebooks, which is to be followed by another 4 Ebooks, each dealing with a different theme or subject matter.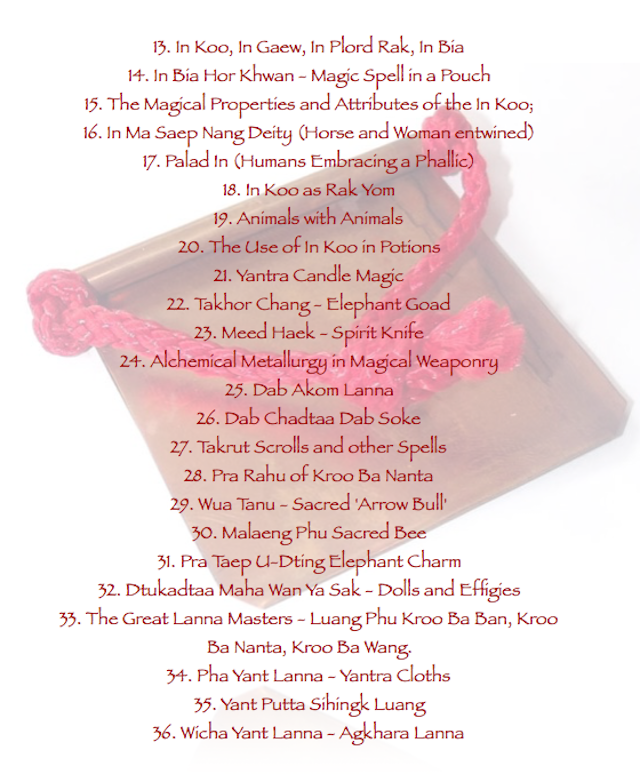 Additional information
Contents

The Book of Thai Lanna Sorcery Contents;
1. The Word 'Lanna'
2. A Fusion of Animist & Buddhist Beliefs
3. Krueang Rang – Occult Talismans
4. The Pantheon of Lanna Talismanic Amulets and Charms
5. The Various Kinds of Magical Properties
6. Further Subdivisions
7. Man Made Krueang Rang
8. Personalised Talismans
9. Kot & Saeng- Anomalies of Nature
10. Hunters & Collectors
11. A Compendium of Krueang Rang
12. Personified Talismans & Effigies – Spirits and Devas
13. In Koo, In Gaew, In Plord Rak, In Bia
14. In Bia Hor Khwan – Magic Spell in a Pouch
15. The Magical Properties and Attributes of the In Koo;
16. In Ma Saep Nang Deity (Horse and Woman entwined)
17. Palad In (Humans Embracing a Phallic)
18. In Koo as Rak Yom
19. Animals with Animals
20. The Use of In Koo in Potions
21. Yantra Candle Magic
22. Takhor Chang – Elephant Goad
23. Meed Haek – Spirit Knife
24. Alchemical Metallurgy in Magical Weaponry
25. Dab Akom Lanna
26. Dab Chadtaa Dab Soke
27. Takrut Scrolls and other Spells
28. Pra Rahu of Kroo Ba Nanta
29. Wua Tanu – Sacred 'Arrow Bull'
30. Malaeng Phu Sacred Bee
31. Pra Taep U-Dting Elephant Charm
32. Dtukadtaa Maha Wan Ya Sak – Dolls and Effigies
33. The Great Lanna Masters – Luang Phu Kroo Ba Ban, Kroo Ba Nanta, Kroo Ba Wang.
34. Pha Yant Lanna – Yantra Cloths
35. Yant Putta Sihingk Luang
36. Wicha Yant Lanna – Agkhara Lanna