36.00$ – 45.00$
Pra Pong Pu Lersi Dern Dong Hermit God wandering in the Forest sacred powder amulet in Nuea Wan 108 Maha Mongkol, with Sila Nam Crystals and Civara Robe attached. The amulet is pressed with immense detail in 3D raised relief, from Luang Pu Bunthom Siribanyo, Blessed on the 27th of August by Luang Pu Bunthom, along with a number of other Great Geji Ajahn Masters.
Description
The Buddha Abhiseka Blessing Ceremony was held at the temple of Wat Na Fay in Amphoe Na Doon, Maha Sarakam Province, on the 27th August 2560 BE, with various models, each in different combinations of either sacred chanuan metals, or in sacred powders. All versions were made in extreme limited numbers. This sacred powder version has Hin Sila Nam Crystals sprinkled onto the rear face, and a piece of Civara Monks Robe attached from Luang Phu Bunthom. A Takrut spell is inserted into the base of the amulet. Each of the metallic versions of this amulet had their own special series code and limited edition number engraved with laser. These sacred herbal powder versions are usable for praying to heal illnesses and ailments, fort the curing of ailments and herbology is one of the main Wicha practiced by the Lersi, and the Wicha of Herbology is a part of the Dtamra Saiyasart of Old, in the making of Herbal Powders.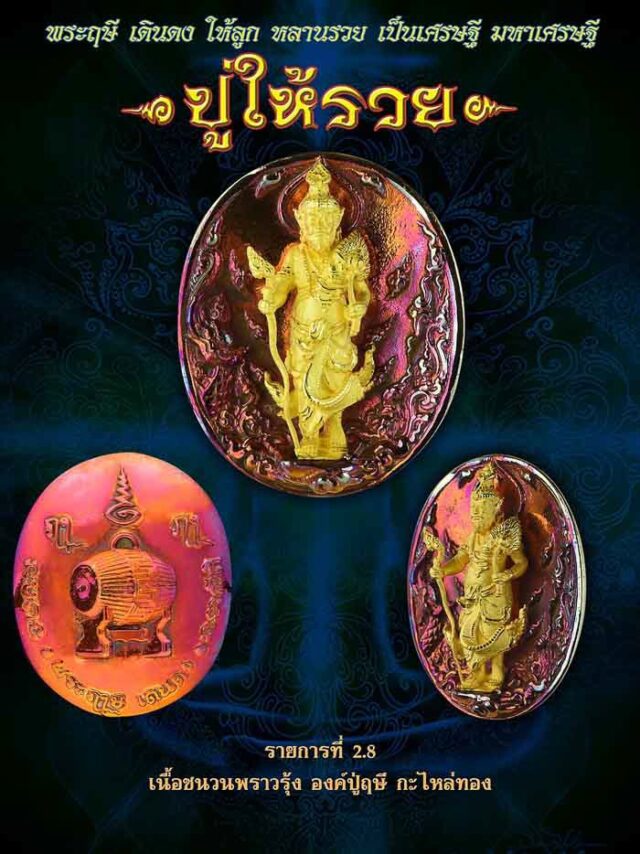 The Lersi Hermit Gods are the Patron Gods of Sak Yant Thai Temple Tattoos and the Guardians of the Devotees of Saiyasart (Occult Magick) and bestow a myriad of blessings upon all devotees who worship them. There are a vast number of Lersi who all who possess different qualities and abilities. There are different kinds of Hermit Gods in each of the various celestial realms and levels of Heaven. The image of the can be used to represent whichever of your chosen Lersi Hermit God you wish to worship. Be it the Lersi Narot (Naradha Rishi), Lersi Por Gae Ta Fai, Petchalugan, Wisawagam, etc.
The front face of the amulet features the Lersi floating on the clouds with his walking staff, crowned with a Nāga Serpent of Bodhala. The inner borders of the ovaloid are embellished with flamed effect decorations, known as 'Granok', suggesting the shape of Himapant Animals, such as the Kochasri Lion-Elephant and Kochamajchā Water Elephant, or the Naga. The Hermit God has an aura around his head. The rear face of the amulet has a 'Taphon' Drum, one of the ritual items of the Lersi, and the God Shiva. The drum has fragments of Hin Sila Nam sprinkled into the Muan Sarn Clay, and a piece of Luang Pu's Civara Monk Robe is attached to bless.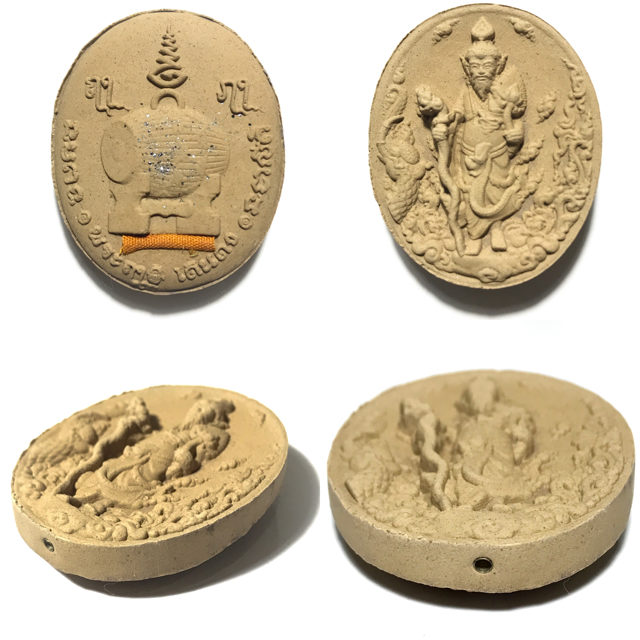 Additional information
| | |
| --- | --- |
| Weight | 45 g |
| Dimensions | 2 × 3.5 × 4.5 cm |
| Year of release | 2560 BE |
| Weight | 70 grams with temple box included |
| Materials | |