239.00$ – 259.00$
Pim Yai large Size hand inscribed Phra Rahu Kala Ta Diaw Eclipse God Early Era Carved One Eyed Coconut Shell Amulet, in 'Pim Glom' Round Planetary design Version, with hand inscriptions of Sacred Khmer Pali Khom Agkhara spells on the rear face, from the Great Arya Sangha Master Monk, Luang Phu Ya Tan Suan Jantaro. This exhibit is Pristinely Carved by a true Master Artisan, and blessed by Phu Ya Tan Suan, as one of a very small batch made by the Master Artisan in an early era special limited series.
The artisanry of this immensely well carved distinguished sacred amulet, is highly recognizable as the work of the number one artisan of Luang Phu Ya Tan Suan, with the highly detailed and inimitably designed Sacred Phra Rahu Asura Deva Eclipse God amulet, The God of Fate and Karma, eating the moon and sun. This round planetary form is also inimitably representative of Phu Ya Tan Suan's Wicha Pra Rahu, as are his other models, such as the Pim Nok Hook, in Triangular Crescent shape, representing the waning of the moon. The amulets of Luang Phu Ya Tan Suan of Wat Na Udom are among the most highly regarded and sought after, and rare amulets to find.
Kala Ta Diaw one eyed coconuts are found only very rarely (estimated to be roughly one in every one hundred thousand coconuts), and are considered to possess naturally inherent magical/natural powers of Kong Grapan Chadtri Invincibility Magic, & Maha Ud/Ud Sap Gunstopper/Treasure Trap (monkey trap style) Magic.
The treasure trap is compared to the story of The olden days Siamese method of catching a monkey; a monkey putting his hand into a coconut with one open hole, big enough for a monkey to get his or her outstretched hand into, to get a fruit the hunter has placed inside, but once the monkey grabs the fruit and maes a fist, it cannot get its hand out of the hole again, and the coconut is chained to a tree. The monkey will not let go of the fruit, and cannot figure out, that it needs to open its hand to escape. This represents how wealth flows in through the one eyed coconut, but once fallen into your possession, will never be lost, or diminish. This is 'UD SAP', magic, the word 'UD' meaning 'clos in' like a cork in a bottle (or the monkey trap), and the word 'SAP', meaning 'treasured possessions & wealth', or 'Chollateral'.
Description
Thai Buddhists Believe that Luang Phu Ya Tan Suan was an Arahant Monk, and that his amulets possess immense Buddhakun Blessings for this fact. His Takrut are the most often seen and highly revered by devotees for their sacred power.
But hand carved pieces of master class sacred artisanry talismanic amulets of Luang Phu Ya Tan Suan are among the most rare and difficult to encounter, and carry a relevant price for such Master-Class type amulets. Hand carved sacred Amulets of this level of Artisanry are considered to possess not only Sacred Magical Power, but are also considered antique works of Miniature Buddhist Arts. Such amulets are highly valued not only by Religious Devotees, but also by full time hunters, collectors of Master Class amulets, and of course, rich people who seek 'the thing for a man/woman who has everything'. His Sacred Power was considered immeasurable, as devotees noticed that Luang Phu's Look Om Chan Hmak betel areca balls, and his hair after head shaving, would turn into 'Pratat' relic crystals.
Luang Phu Ya Tan Suan Jantaro of Wat Na Udom in Pibun Mangsaharn Ubon Rachathani.
Luang Phu Ya Tan Suan was very famous for his cord wrapped Takrut amulets, which are highly revered by the devotees of Wat Na Udom and the province around the temple, and which are Nationally famous as the most popular talismanic charm of this great Arya Sangha Monk. Their cord wrapping is inimitably fashioned in a crossed-square fashion, that is rarely if ever seen used with other Takrut amulets which are cord wrapped from other masters.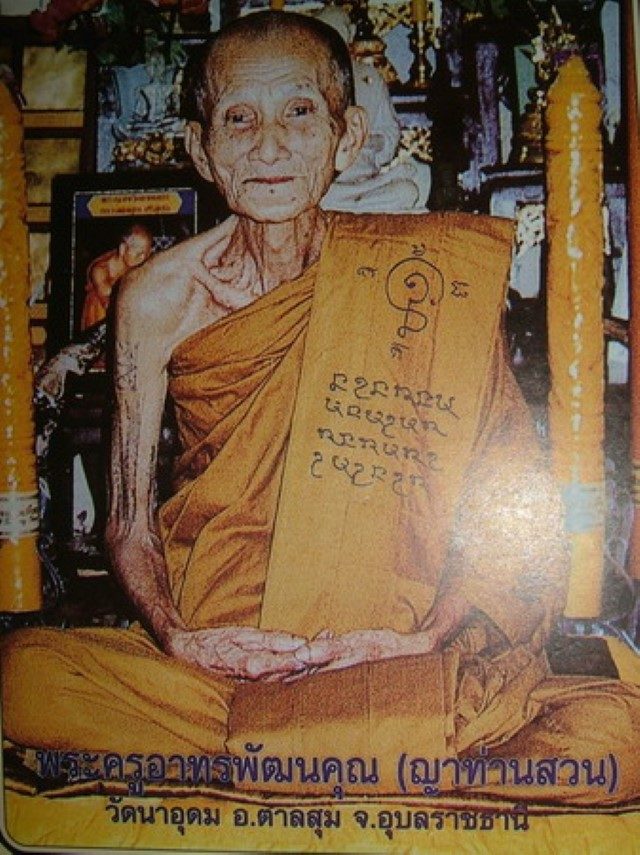 His Pra Rahu are also equally inimitable, in the quality and beauty and originality of their artistic carving style, and precision of masterful detail. The Rahu amulets of Phu Ya Tan Suan are immensely famed for their power to turn the line of Fate in Your favor and bring Lucky Fortunes, turning Bad Luck into Good Luck, Enemies into Friends, and Increase Chances of Promotion of Status, Wage Rises, and Remove Obstacles in Life. Pra Rahu also protects against Black Magick of all types.
Luang Phu Ya Tan Suan was a close apprentice, friend and student of the great Somdej Lun of Jampa Sak in Laos, who was a Master of Magickal Wicha, and who passed on his Wicha to Phu Ya Tan Suan, along with Luang Por Tan Gammathan Peng, od Wat Saper in Pibun Mangsaharn, Ubon Rachathani. Phu Ya Tan Suan mastered the Incantations of Somdej Lun, after making the promise to LP Peng, that he would never disrobe again, and remain a Monk all his life, which was one of the conditions of inheriting the Wicha.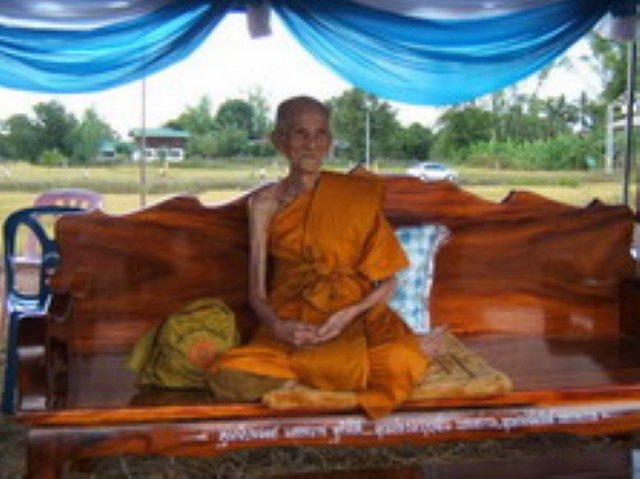 Luang Phu Ya Tan Suan was a great Master Monk who managed to evade the fame of other more willing publicly known monks of his era, but was one of the great monks with powerful Wicha, of an equal status to many other Masters whose names may be more well known Internationally. His Takrut are considered to be powerful Metta Maha Niyom, Maha Lap, Klaew Klaad, and Kong Grapan Chadtri.
Luang Phu Ya Tan Suan left this world on the Year 2548 BE, leaving his devotees devastated. His mortal remains also remained intact and are preserved within a glass coffin in the Vihara shrineroom at Wat Na Udom.
Amulets of Luang Phu Ya Tan Suan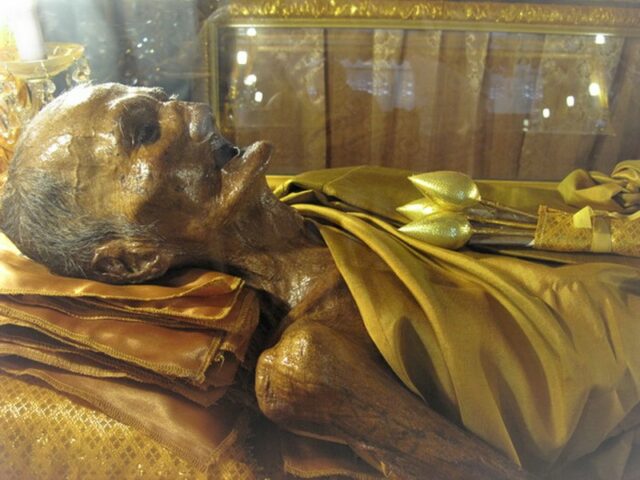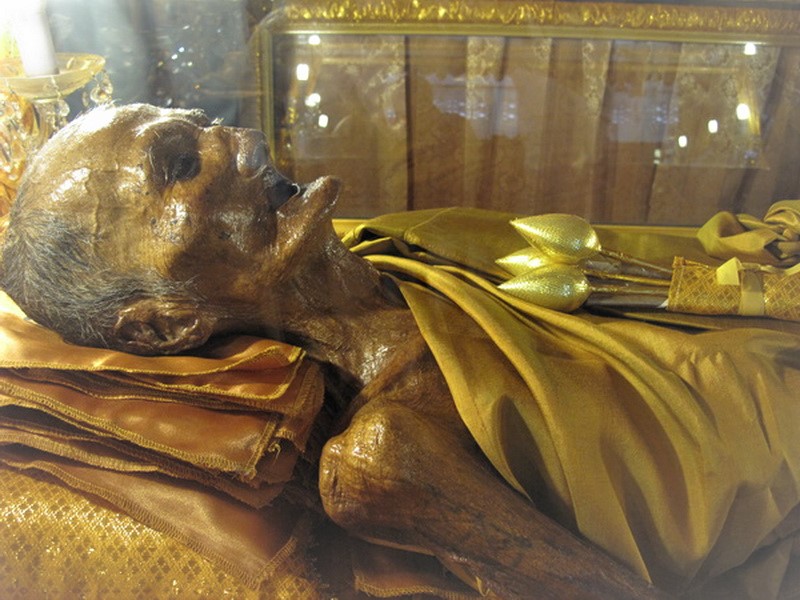 This amulet is extremely rare, made as one of a small set of different models of Extremely Rare and Precious old hand carved Pra Rahu amulets in Nuea Kala Ta Diaw one eyed coconut, from one of the top Artisans of the time. The amulets were made in one eyed coconut shell, as well as a very few special models with ivory, from the Great Phu Ya Tan Suan, who was a Monk ordained at age 20 in 2473 BE, and was an important and powerful Gaeji Ajarn Master, who passed away in 2549 BE, after 86 years of ordained service to his devotees and the Sangha.
Apart from his many famous Takrut amulets, Luang Phu Ya Tan Suan Mastered the Wicha of making and empowering Pha Yant Sacred Yantra Cloths, Look Prakam magical Rosaries, Nang Kwak Statues, Phra Rahu Om Jantr Asura Deva Eclipse God amulets, See Phueng Metta Balm, Prakam Tone (Look Om), Wicha Riak Suudt, the Wicha for making Pong Ittijae, Pong Bpathamang, and other sacred powders. He was known to possess a very unusual powerful Wicha to make special Holy Water, and the Wicha Hmaa Kin Jai (Dog eats Your Thoughts spell), which is another inimitable magic spell of Phu Ya Tan Suan of the Metta Variety.