60.00$ – 69.00$
Paya Rachasri Phone Pouncing Singha Himapant Lion Loi Ongk Statuette, from the Great Luang Phu Sin, of Wat Lahan Yai. This design is the classic Singha design used by Masters of the Luang Phu Tim Lineage, according to the design formulas of the original Artisans of Luang Phu Tim (Wat Laharn Rai).
Paya Rachasri, is a Sacred Forest Mythical Himapant Animal, the Paya Rachasri is the Himapant Forest King Lion, in pouncing posture, ready to pounce upon its prey fearlessly. The Rachasri Loi Ongk Statuette is cast from Nuea Galai Ngern (Sacred Alloy with Silver Galvanised Surface), and has limited edition series code number stamped on the base of the amulet.
SKU:

A92
Categories: All Thai Amulets, Amulets for Wealth, Animism, Deities, Luang Por Sin, Metal Amulets, Power Amulets, Protection Amulets
Tags: Himapant Animal, Increase Status, Job Promotion, Klaew Klaad, Kong Grapan, Loi Ongk, Maha Amnaj, Singha
Description
The Rachasri Lion is representative of Maha Amnaj Commanding Power and Intimidating Aura, Serm Yos Power for increased status and Promotion opportunities,. The amulet is highly imbued with Kong Grapan Chadtri, Klaew Klaad, Metta and Maha Lap Magic
Luang Phor Sin is a Chonburi Province Master Monk, and Abbot of Wat Lahan Yai in Rayong He is highly revered for his amulets. Highly respected and followed by devotees around the world, as a direct Looksit of the Great Luang Phu Tim Issarigo, of Wat Laharn Rai, also nearby, in Ban Kaay Rayong
Luang Phor Sin is a lineage-continuance Master Monk of the Dtamra Pra Khun Phaen Pong Prai Kumarn of Luang Phu Tim, along with the now deceased first apprentice, Luang Por Sakorn, of Wat Nong Grub, and Luang Por Rat of Wat Pha Hwaay, as the top three apprentices of the Wicha Pra Khun Phaen Pong Prai Kumarn, Hanuman, and other Spells transmitted down from the Great Luang Phu Tim.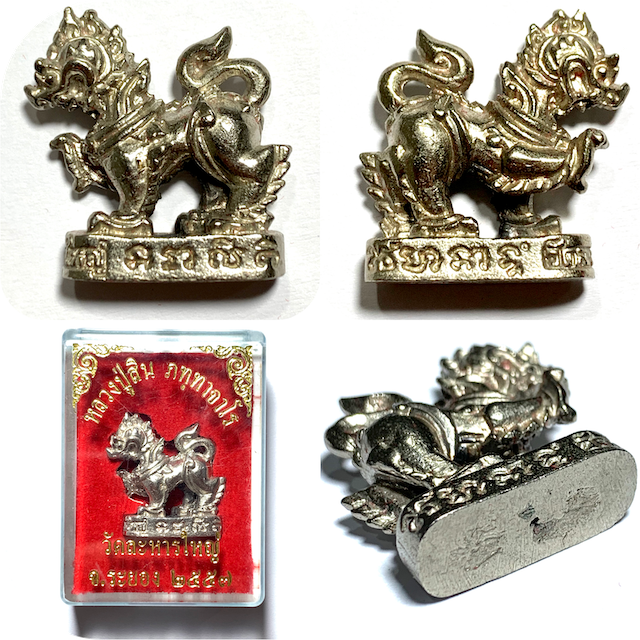 Additional information
| | |
| --- | --- |
| Weight | 15 g |
| Dimensions | 1 × 2.5 × 2.5 cm |
| Maker of Amulet | |
| Temple | |