A pictorial documentation of the Buddha Abhiseka (Putta Pisek) at wat Sri Jantr, of the special edition series of Takrut Tone alchemically forged metal talismanic charms, with Muan Sarn Sacred Powders from the great Luang Por Kong (Kroo Ba Ajarn of Khun Phaen Legend) inserted into the hollow interior of the tubular Takrut amulet. Wat Sri Jantr is an Ancient Temnple which has had Monks staying there uninterrupted since the times of the Ayuttaya Era.










Blessing Ceremony of Takrut Tone at Wat Sri Jantr
The Takrut is made using a compendium of 'Laekh Yant' Numerology and Sacred Geometry based Spells with Khom Agkhara Incantations inscribed on Sacred Yantra Foils, smelted into Ingots, Inscribed and empowered once more, and then cast into the metallic alchemically forged Takrut amulets we see before us in the slideshow. Blessed at Wat sri jantr, the amulets have special Muan Sarn Sacred Powders from the ancient Kroo Ba Ajarn of Supanburi Magical legend and Kroo Ba Ajarn of Khun Phaen himself, Pra Ajarn Kong. These Powerful Powders provide Maha Sanaeh, Metta Maha Niyom, Kong Grapan Chadtri and Klaew Klaad Power for Successful Profession and Invincibility/Protection.













The Takrut is useful for people of all walks of life, for it contains a compendium of Yant that cover all the many facets of Human needs;
Yant included within the spells contained in this Wicha include;
1. The Kata Pra Jao 16 Pra Ongk Dtua Phuu (Male Version) sixteen Buddha Invocation;
'NA MA NA A NOR GOR NOR A GOR OR NOR A NA A GA ANG (Kong Grapan Chadtri)
2. Kata Pra Jao 16 Pra Ongk Dtua Mia;
'U MI A MI MA HI SU DTANG SU NA PUT TANG A SU NA A' (Metta Maha Niyom Klaew Klaad)
3.Kata Maha Chadtri Bhavana Raksa Graduk Awayawa;
'A SU SUT TĀ GĀ PA MĀTA CHĀ NA MI SU MU TU U A (Kong Grapan Chadtri)
Below; Yant Pra Putta Jao 16 Pra Ongk
These Kata have to be imbued within the first handful of rice of the almsbowl of a monk on three different occasions, and repeated for a period of three months during the rainy retreat as part of the Traimas Trimester Empowerment). This is the invocation of the Graduk Tong Daeng (copper bones) spell, which makes one invincible to normal types of weaponry. The Invocation uses the sacred Agkhara and Yantra of the Dtamra Prawaet of the Buddha Sasana (White Buddha Magic)
Below; Yant Maha Ud
The Yant Maha Ud is also embedded as a double-sided Yantra Spell within the Wicha, on one of the smelted Yantra foils used to make the ingots, which possesses both Kong Grapan Chadtri and Metta Maha Niyom Powers.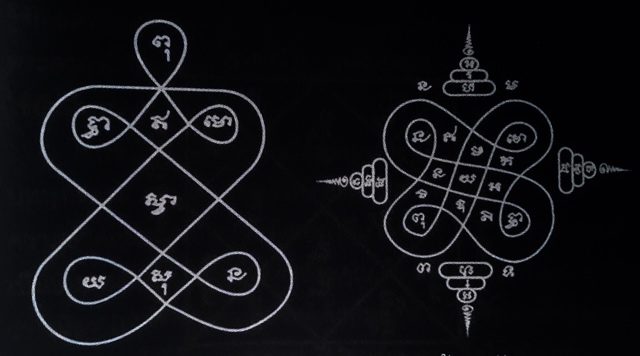 The Yant Pokasap was also Imbued within the Sacred Chanuan Alchemical Admixture through Inscription of the Yantra on foils smelted within the ingots, for Wealth and Treasure Accumulation, to improve wealth and prosperous living.
Below; Yant Pokasap for Wealth Increase
The Sacred Yant Takrut Tone was also inscribed on sacred yantra Foils for smelting into the Chanuan Alchemical metallurgical Admixture, which is considered most powerful protection against all forms of weaponry.
Below; Yant Takrut Tone
In addition, the Sacred Yant Gan Sakot Yantra Spell was Inscribed upon Yantra Foils for smelting into the Chanuan Muan sarn metallic Alloy, to Protect against Thieves and Robbers.
Below; Yant Gan Sakot
In addition, a sisxth yantras Spell in the form of an Incantation was performed and imbues, the Yant I SA WĀ SU, and a seventh Maha Yant Solos Mongkol was added to the compendium of Sacred Yantra Foil spells used for the metallurgical forging of the sacred Ingots to make the Takrut with. The Yant Maha Solos Mongkol is Universal Auspicious Blessings and karma Improvement.

Below; Yant Maha Solos Mongkol