55.00$ – 64.00$
Hanuman Jab Hlak Braab Dtrai Chakra Maha Pokasap Maha Sethee – Baramee Bun Tim Tarb Sukhothai Ancient Chedi restoration edition blessing by many great master monks of Ayuttaya and Nakorn Pathom Provinces, including Luang Por Maen (Wat Na Tang Nork), Luang Por Yuang (Wat Na Tang Nai), Luang Por Uay Porn(Wat Don Yai Horm), Luang Por Sam Ang (Wat Bang Pra), Luang Por Porn (Wat Bang Gaew), and Luang Por Bun Som (Wat Sam Roeng). Made from an admixture of Maekasit Amulets of Luang Pu Bun, See Pheung Khiaw of Luang Por Tarb, and Lek Lai Kaya Siddhi Adamantine Substance.
SKU:

0003
Categories: All Thai Amulets, Amulets for Wealth, Animism, Deities, Hanuman, Metal Amulets, Power Amulets, Protection Amulets
Tags: Himapant Animal, Increase Status, Klaew Klaad, Kong Grapan, Loi Ongk, Maha Amnaj, Serm Duang, Vanora
Description
Hanuman Bpraab Dtrai Jakr Pokasap Baramee Bun Tim Tarb – Triple Wicha Vanora God amulet, composed from Muan Sarn of three Great Sorceror Monks of Olden Days of Immortal fame, and blessed by the living successors and inheritors of the Wicha of these masters (Luang Pu Bun, Luang Pu Tim, and Luang Por Tarb). A most special edition for Wealth, Mercy Charm, Status Increase, Commanding Power and Seductive Influence. This edition was made to raise funds to continue the extremely difficult and costly task of restoring the ancient Chedi Stupas of Sukhothai Era which have fallen into delapidated state over the centuries, to preserve the Heritage of these Ancient Historical Buddhist sites.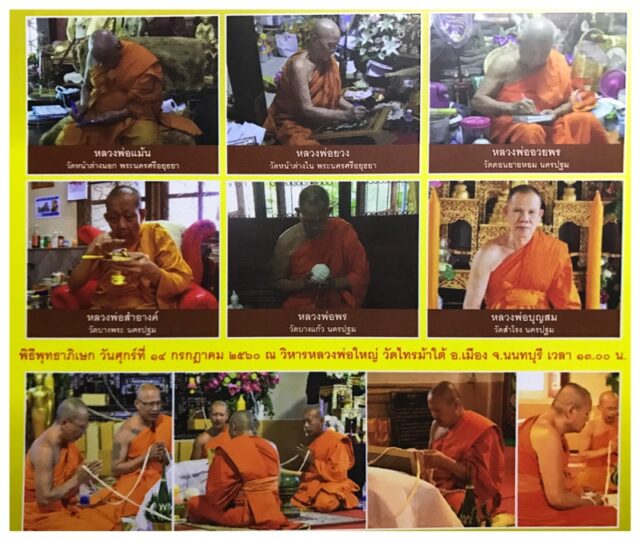 The Hanuman Jab Hlang Bpraab Dtrai Jakr Loi Ongk Statuette amulet featured the Vanora God General of the Armies of the God Rama holding a Golden Takrut, with sacred Pong Prai Kumarn Powders of Luang Phu Tim filled into the base mixed with See Pheung Khiaw Green Prai Oil paste of Luang Por Tarb (Wat Mai Grabok Kheun Pheung), cast from Alchemically Forged Maekasit Sorcerous Metals from amulets of the Great Luang Phu Bun (wat Klang Bang Gaew), and Lek Lai Kaya Siddhi Adamantine Elemental substances and Yantra Foils, with powerful blessings of the Muan Sarn sacred ingredients from 6 of the Greatest Living Masters of the Current Era, from Ayuttaya and Nakorn pathom Provinces,
who performed their individual empowerments over the Muan Sarn ingredients, before final Tewapisek (Deva Abhiseka) Ceremony