59.00$ – 68.00$
Sacred Palad Khik Lingam Paetch Payatorn type Animist Charm, The Palad Khik Mai Payung Gae is hand carved from Mai Payung Daeng (Sacred Red Payung tree wood, believed to be inhabited with the spirit of a Deva), and hand inscribed with the Khom Agkhara of the Wicha Palad Khik, with the Kata Ganha Neha, NA MA PA TA, Na Mo Put Taa Ya, Kata Sivali (Na Chaa Lee Dti), and the Sacred Unalome.
The Sacred Mai Payung Daeng wood is one of the rarest Sacred Woods of the deep forests of Thailand, along with mai Payung Dam black tree-wood, with Mai Payung Khaw being also extremely rare, but only one in 100,000 trees may produce a red or black tree, which makes the red and black versions of Mai Payung extremely rare indeed. They are also believed to possess special tree spirit Devas within them, and that the anomalous color is a sign of their heavenly power.
Description
The Thai Palad Khik is an Animistic Phallic amulet, carved in the form of a Male sexual organ. Palad Khik are made in all sizes, ranging from miniature ones the size of your little finger, right up to ones which are higher than a human. Palad Khik are extremely popular with Thai people, worn as amulets tied to a cord around their waist. The powers of the Palad Khik range from  Metta Mercy Charm, through Gae Aathan Anti Black Magick, to Gae Sadtw Pit & Pongan Pai, Protection against Poisonous Beasts, Deadly Dangers, and Sharp Objects.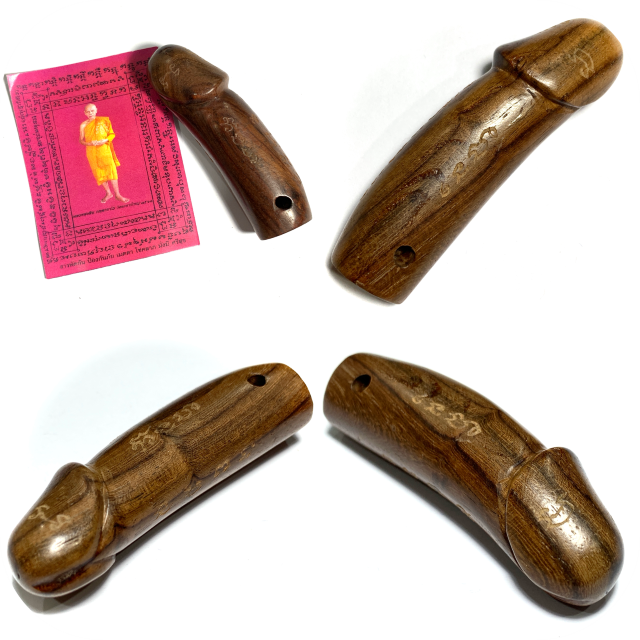 The belief in the Shiva Lingam, or 'Leungk' (Thai pronunciation) phallic energy of the Palad Khik, is derived from the Brahman influence which has been inflected on Thai Theravada Buddhism, since both belief systems came to Siam more than one or two thousand years ago. It is believed that the Palad Khik Lingam energy is the source of all life forms in the Universe. This is the root of the act of reverence (Bucha/Poojah) to the  Palad Khik as a Shiva Lingam, which honors Shiva as the Lord of the World.
It is believed, that since Buddhism sprang out of the roots of Brahman Cosmology, and that the people of Siam adopted Pre-Buddhist Brahman traditions and incorporated them, that this is even a benefit to the preservation of ancient knowledge, and of Thai history and tradition. Most of these ceremonies do not come into any kind of dispute with Buddhist thought. In fact, Buddhist Thought bases itself on many concepts found in Hinduism, and in Thailand, the two Beleif Systems can hardly be separated.
Luang Pu Sin is a Chonburi Province Master Monk, and Abbot of Wat Lahan Yai in Rayong He is highly revered for his amulets. Highly respected and followed by devotees around the world, for his powerful amulets, filled with Metta.
Luang Pu Sin of Wat Lahanyai in Rayong is not only famously associated with being a Looksit of the Lineage of Luang Pu Tim Issarigo of Wat Laharn Rai (Rayong), but was the direct inheritor of the Wicha of his Kruba Ajarn Luang Pu Peng, the preceding Abbot of Wat Lahan Yai, and of the Great Luang Por Rat of Wat Nong Grabork, who passed on the Wicha of See Pheung Khiaw Green Prai Oil from Luang Por Tarb (Wat Nong Grabork).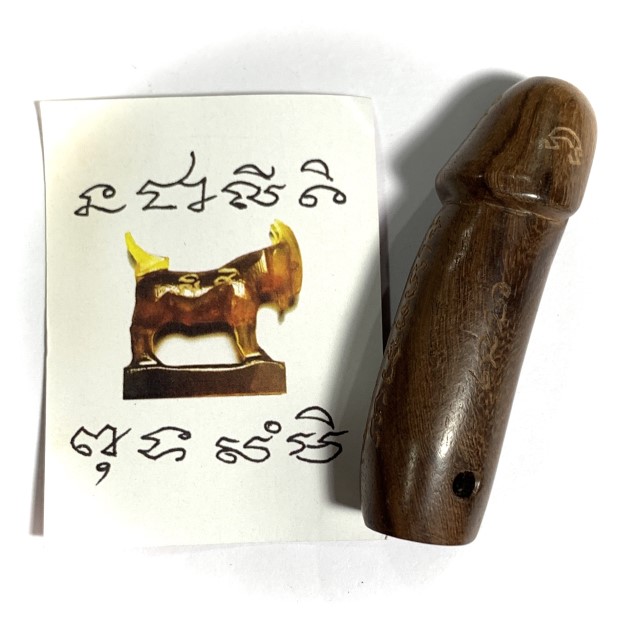 Luang Por Sin is a lineage-continuance Master Monk of the Dtamra Pra Khun Phaen Pong Plai Kuman of Luang Pu Tim, along with the now deceased first apprentice, Luang Por Sakorn, of Wat Nong Grub, and Luang Por Rat of Wat Pha Hwaay, as the top three apprentices of the Wicha Pra Khunphaen Pong Plai Kuman, Hanuman, Palad Khik, and many other Spells transmitted down from the Great Luang Pu Tim.