Presenting a gallery of images of the Empowerment and Buddha Abhiseka Blessing Ceremonies of the 2561 BE 'Som Pratana' (fulfil your dreams and wishes) edition amulets released at Wat Po Sri in Nakorn Panom, one of the lineage temples of the Great LP Derm of Wat Nong Po. The amulets were blessed with various other individual editions of each master, by a host of Great Master Monks of Luang Por Derm's Lineage, with the Meritorious Charitable goal of raising funds for the building of a Chedi Stupa Relic Shrine at Wat Po Sri, and to build a study hall at Wat Fa Khern Suwannadum Pa in Nakorn Panom .
The first blessing ceremony at Wat Pratat Panom and was held on the 25th May 2560 BE, included the following Master Monks present to perform empowerment and Blessing of the Chanuan Muan Sarn Sacred Metals for the casting of the amulets;
Pra Manghala Sutee (Luang Phu Khaek), of Wat Suntorn Pradit, Pra Kroo Ratana Nayok (Wat Pratat Haripunchai), Pra Kroo Wimon Bun Gosala, (Wat Wimonlaniwas) Pra Kroo Suntorn Chayapiwat (Wat Tat Maha Chai), Pra Racha Siri Wattana (Wat Suwan Sawang Suwannaram, Pra Kroo Boworn Potiwat (Wat Pratat Sri Kun), Pra Kroo Wisutti Maedti (Vice Abbot of Wat Pratat Panom), Pra Kroo Pawana Sope (Wat Pha Tamma Sope (Lopburi), and Pra Racha Radtana Longorn (Wat Po Chai)
The second ceremony was performed at Wat Pratat Panom again, to bless the amulets after casting in full Buddha Abhiseka ceremony on the 30th October 2560 BE, with Luang Phu Sor presiding.
The final Blessing Ceremony was performed on Monday 9th April 2561 at Wat Po Sri, with Luang Phu Sor Luang Phu Glom and Luang Phu Sorn, along with the monks of the temple performing empowerment and blessings.
Luang Por Derm was one of the greatest master monks in Thai Buddhist Amulet making history, and his original Loi Ongk Statuettes are priceless treasures, only worn by the riches millionaires, but the devotees of Luang Por Derm believe that just his image is sacred with or without blessing, and carries the same power as any of his ancient and priceless amulets, for the faith and devotion of the devotee, brings blessings from Luang Por Derm through direct transmission through Guru Worship.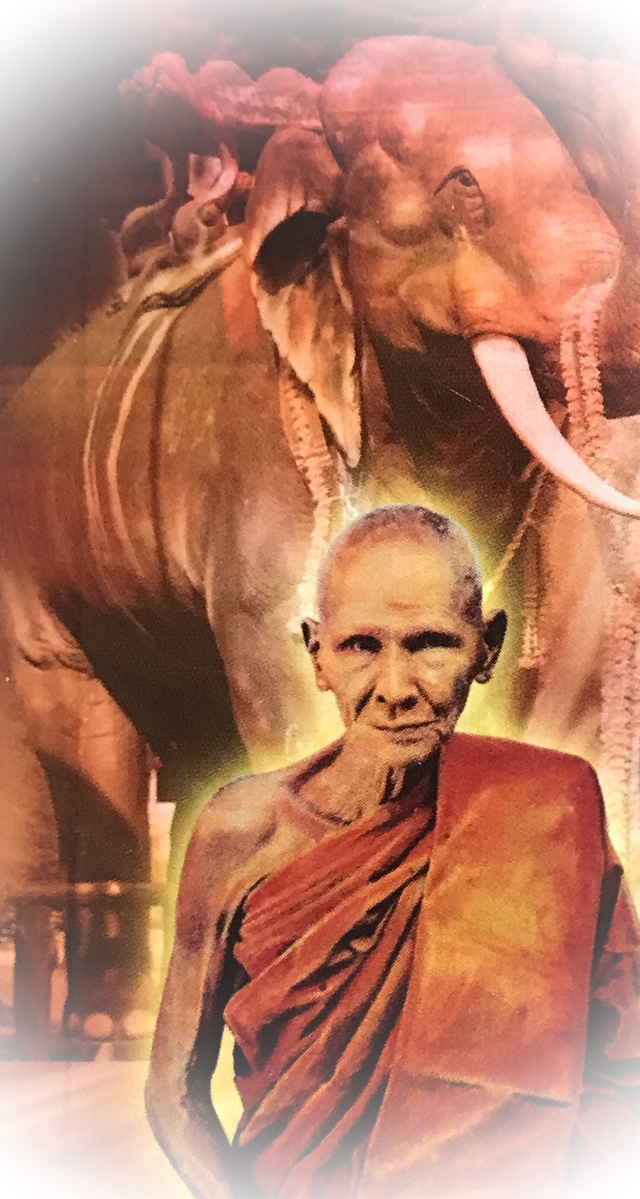 Luang Por Derm was very famous for his Mitmor Spirit Knives, and carved amulets in ivory and wood, as well as his hand inscribed Pha Yant, and of course, the Roop Lor.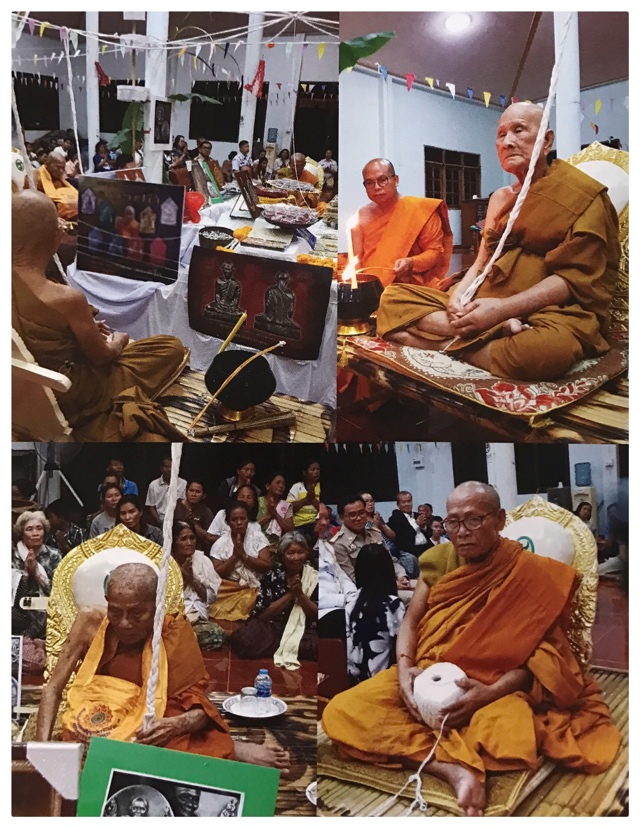 Below; Pra Roop Lor Luang Por Derm Wat Nong Po Som Pratana Edition amulets, in Nuea Tong Tip Khad Ngao sacred brass with oiled polish (top – 6739 amulets made), and Nuea Albaca Khad Ngao (bottom – 4489 amulets made)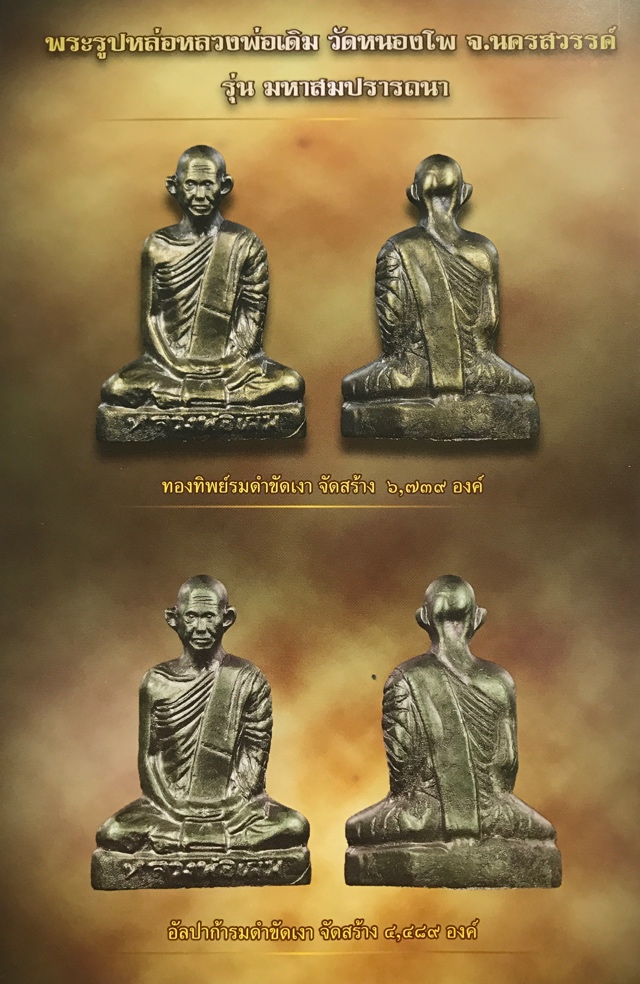 Luang Por Derm was Born on Wednesday 6 February 2403 BE and Died on Tuesday 22 June 2494 BE. He was one of the Greatest Masters of Thai Buddhist History, whose amulets, and famous 'Mitmor' ritual spirit knives are legendary around the whole wide world, for their authentic power, and Master Class Status.









Blessing of Chanuan Muan Sarn Sacred Metals for the casting of the Luang Por Derm Wat Po Sri Edition Amulets 2561 BE released at Wat Po Sri to fund the building of a Chedi Stupa Relic Shrine





Blessing Ceremony of the Som Pratana Edition Amulets at Wat Po Sri

This great Master and Abbot of Wat Nong Po, is believed to have chosen to be born on Earth in the village of Nong Po, to lighten the sufferings of Buddhist People, and to bestow them with Blessings to lead them on their way towards Happiness, and Alleviate their Sufferings, and Poverty.The Wicha of Luang Por Derm is continued to this day through his Looksit of the various Master Lineages.
His carved Roop Lor, Krueang Rang (Talismans), ivory, and wooden amulets are rare items, for they were made by individual Artisans who were Initiated and had received the Wicha, and 'Korb Kroo' Ritual Empowerment as permission from Luang Por Derm himself. Only such Lineage Master Initiates were allowed to perform carving or knife forging for Luang Por Derm, and even to this day after his passing, all the Posthumous Editions of amulets which derive from Masters who are Initiates of Luang Por Derm, have to use only amulets and Artisanry which have been made by an Initiated Artisan.