Presenting an Extremely High Powered Prai Necromantic Sacred Locket bearing the Image and Invocations of the Taep Tida (Ma Sep Nang) Lady-Horse lovers, with coarse concentrated Muan Sarn Sacred Prai Powders, Takrut Maha Sanaeh, Necromantic Chin Aathan pieces, and Ploi Sek Maha Pokasap Enchanted Gemstones, from Lanna Hilltribe Monk and Infamous Necromantic Sorceror Monk, Pra Ajarn Dtecharangsri.
There is a Fable that there was once a family who had a very beautiful daughter. This family reared horses for a living, and their horses were famous for their incredible beauty. The daughter took care of the horses every day until one day she felt intense desire for the horse she had become attached to, and consummated her desires with the horse (had sex with it).
When the family found out about the event, they were incredibly offended and angry, and they killed the horse which the daughter had been caring for and had sex with. The daughter heard of this, and became so sad, that she died of a broken heart, from sorrow for loss of her horse and lover.
The ancient Kroo Ba Ajarns of Old believed that this particular horse had an incredible power of Maha Sanaeh (charm and attraction). So strong indeed, that even a Human Woman could fall in love with it and allow it to have sexual contact. For this reason the In Ma Sep Nang is an extremely powerful love charm, and that whoever carries it will certainly have the charming effect on others around him or her.
The Ma Sep Nang is considered a denizen of the prai Spirit Realms for the fact that is is usually empowered with the presence of an Inhabitant Prai Deva within the Sacred Powders, which requires the proper invitation into the home as is laid out in the Dtamra Saiyasart for this kind of Occult Animist Magical Charm;
Ma Sep Nang amulets are a Powerful Attractor of the Opposite or Same Sex depending on your wishes, as good for Gays as is for Straight Heterosexuals, or Bisexuals, Male or Female. Good for Business improvement too, Gamblers will also be well served with this Hermaphroditic Prai Deva.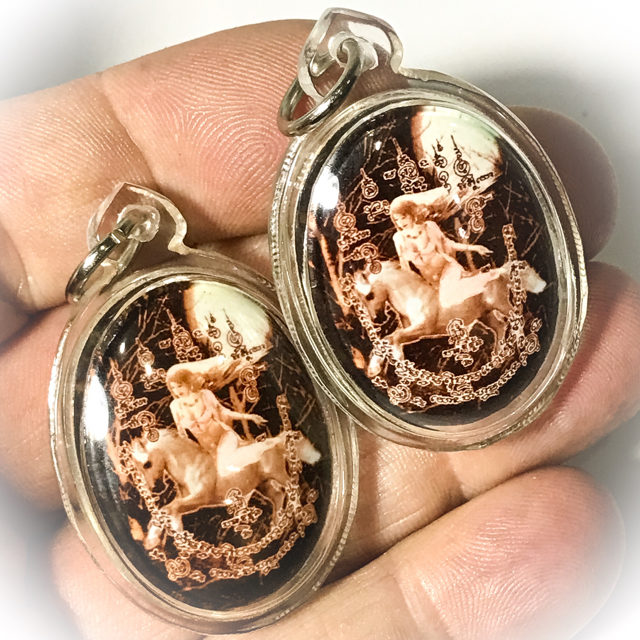 The Taep Tida locket has an image of a Female Nymph Deva riding and embracing a horse, who is her symbiotic lover. This is derived from the an ancient legend of the Lanna People. The Lady-Horse Lovers are an ancient Lanna spell of the Ma Sep Nang, a legendary Wicha of the ancient animist folk of the northern border-regions of Thailand, Burma and Laos.
The rear face of the locket is stuffed full of highly concentrated Muan Sarn Sacred Prai Powders, with a Takrut Ma Sep Nang Maha Sanaeh spell. The Ma Sep Nang is considered to be one of the most powerful Maha Sanaeh Metta Maha Niyom Wicha of the Lanna People. Please note; the appearance of the rear face of each individual locket is slightly different because of their hand made nature. Each locket differs slightly in this aspect.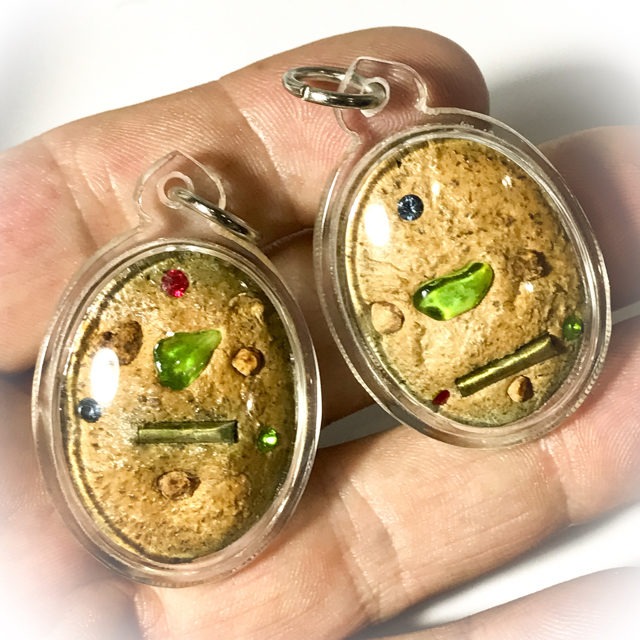 Pra Ajarn Dtecharangsri, has during the last decade, become one of Thailand's Leading Necromancers of the Ordained Sangha, and is one of the few Masters preserving and extending the Wicha Saiyasart of the Northern Hilltribes of his Vicinity. The Hilltribe Magic is rooted in Very Ancient Animist Sorcery, and considered to be most powerful due to its adherence to the preservation of ancient methods and secret formulas, passed down from mouth to ear from Master to Apprentice for thousands of years.In recent years, Pra Ajarn Dtecharangsri came into the public eye through the media, as his amulets were discovered by reporters to have truly necromantic ingredients, which resulted in some investigations, with no prosecution.