Description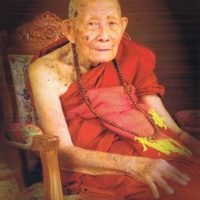 Pla Tapian is a Sacred Fish that appears in Vedic legends. Pla Tapian are seen as very lucky fish and are related to a story about the Sacred bird Nok Garawaek, in a story where the Ruesi in the Deva world sent a Garawaek bird to retrieve a magical tome from a Pla Tapian fish. Pla Tapian have been used as lucky charms since centures by both Thai and Chinese people.
Pla Tapian are extremely recommendable for Merchants, Salespersons and Business Owners, for their ability to increase good commerce and attract customers. One can see Pla Tapian Tong-Ngern in shops and places of business, market stalls and floating markets all over Thailand, which is a popular Animist Charm that has been used for many Centuries if not thousands of years.
Picture left; Luang Phu Kroo Ba Duang Dee, of Wat Ta Jampi
The Pla Tapian amulets have also become famous over the decades for their ability to bring people out of poverty and lead them to success. Very popular with small traders, market salespersons and also with large business establishments. Thai-Chinese Folk are also very reverent of the Pla Tapian Koo silver-goldfish Animist charm. Use to hang or place in a frame or wear in your place of business and your pleasure haunts too, to attract customers, admirers, employers and helpfulness.
Kata Pla Tapian
Sappae Chanaa Pahu Chanaa
Prahma Sivang Namaa Mi Hang
Ehi Jidtang Biyang Ma Ma
Below; Kroo Ba Duang Dee as a young Samanera with Kroo Ba Srivichai