A gallery of images of the 2 Blessing Ceremonies of a new arrival on the Thai amulet scene, for Power, Promotion, Wealth and treasures, and Protection against Physical Dangers and Black Magic, the Takrut Yant Gao Yord Paya Nakarach Lek Lai Maha Sethee Naga Serpent Amulet. The Takrut is forged from a cast sacred metal sheath in the shape of a coiled Naga with a Takrut scroll spell inserted within, with the inscriptions of the sacred Yant Gao Yord.

The sacred metal alloy was cast using ancient alchemical metallurgy ritual methods, with the addition of Lek Lai  Payanak Naga Lek Lai Kaya Siddhi Adamantine substance, to increase the Maha Ud Maha Pokasap power and seal the magic with the power of the Nagas.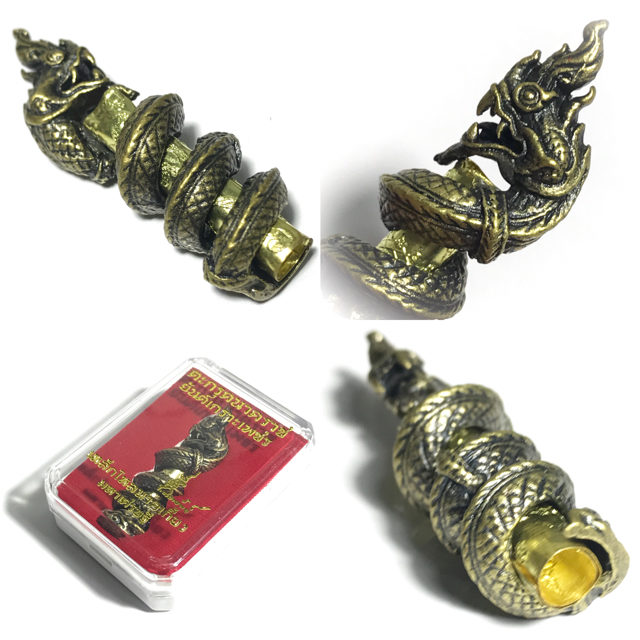 The Naga is an extremely powerful and magical being of the Bodhala Underworld, and is a Deva Being, who possesses Shapeshifter abilities, and can transform into Human Form at will. The Naga is a Very powerful Magical Entity and a Deity of the Thai Buddhist Pantheon. the Naga Kings are devotees of the Lord Buddha, and Protectors of the Dhamma.
Blessed by a host of great Master Monks with the first of two ceremonies at the Naga Shrine in Potaram, Rachburi, presided over by Luang Por Wichiar of Wat Nong Some Tiam Jantr in Kanjanaburi. He was accompanied by Luang Por Say of Wat Nong Ree in Rachburi, Pra Kroo Wipach Tamma Wisit, the abbot of Wat Dee Bon in Rachburi, Pra Kroo Palad Prasit of Wat Rach Bamrung, and Pra kroo Chum Kanjanagij (Luang Por Pranay) of Wat Nong Kwang in Kanjanaburi. LP Pranay is the Looksit Aek first initiate in Magic to the great Luang Por Suan of Wat Bang Gradan.
The second ceremony was held within the Vihara shrine of Luang Por Yai at Wat sai Ma Dtai in Nontaburi on Saturday 15th September 2560 BE with Pra Ajarn Wasant presiding over the other invited Guru Masters in the Buddha Abhiseka Ceremony
---